Pakistan v England: Andy Flower denies England are a closed shop

By Joe Wilson
BBC Sport in Dubai
Last updated on .From the section Cricket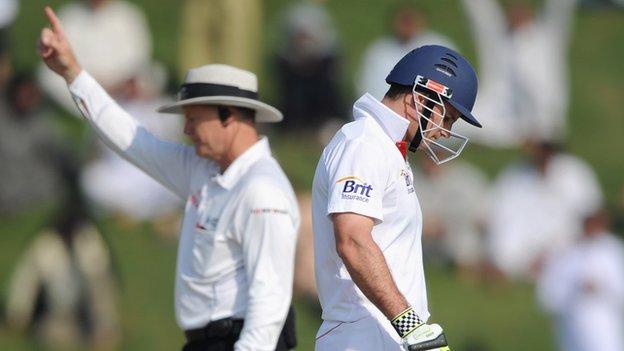 England team director Andy Flower has warned his batsmen that selection is "not a closed shop" following the series whitewash by Pakistan.
England managed to make more than 200 only twice on the way to a 3-0 defeat.
Flower told BBC Sport: "There is a point where it would be stupid to continue along the same path.
"I don't think we're there with these players. This is not a closed shop, but this group of batsmen have done an outstanding job for England."
The tourists' main struggles in Dubai and Abu Dhabi came against Pakistan's spin bowlers, with Saeed Ajmal, Abdur Rehman and Mohammad Hafeez taking 48 wickets between them.
"You don't always succeed, and when that is the case it can create some doubts," Flower added. "The best players come through those moments of doubt."
England arrived in the United Arab Emirates ranked as the number one Test side in the world and unbeaten in a series since 2009.
However, their place at the top of the world rankings can now be taken by South Africa if the the Proteas defeat New Zealand 3-0 in March.
"We wanted to continue our Test form but we weren't good enough to do that," Flower said. "Our batting against spin has been shown up.
"I saw some glimpses from a couple of the players in the last Test of different techniques and methods, and why they would work.
"They have worked very hard to adjust the way they were thinking and playing but they weren't quite good enough. There are no quick solutions."
Flower also accepted that, after not playing a Test match in over five months, England could have done more to prepare for the series against Pakistan.
"While we were resting for two months, Pakistan were playing against Sri Lanka and Bangladesh, they were hardening themselves for this series, and we weren't," he said.
"That is a factor in this result, and we will adjust our preparation accordingly, we'll take those lessons."
After the limited-overs series against Pakistan, England travel to Sri Lanka in March for two Test matches.
It is possible that some of the players not staying one in the UAE, which include Andrew Strauss and Ian Bell, could travel to Sri Lanka early for extra preparations.
Former captain Michael Vaughan believes England should, and will, continue with the same group of batsmen for the Sri Lanka series, but feels they may have become carried away with the victories which took them to the top of the world rankings,
"There was a lot of media hype when they got to number one and maybe the players just believed a little bit of that," the former Yorkshire batsman said.
"I know their goal is to be the best-ever England team, well the reality is they're not. They've got a lot of hard work to do."