Saeed Ajmal claims clarified by Pakistan Cricket Board
Last updated on .From the section Cricket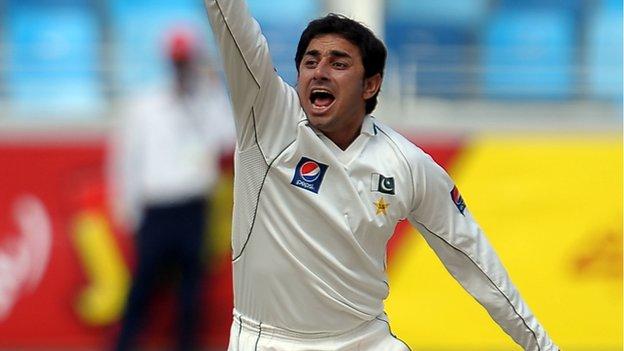 The Pakistan Cricket Board (PCB) has moved to clarify Saeed Ajmal's claim that he has permission to straighten his arm more than other bowlers.
International Cricket Council regulations state a bowler may straighten his arm 15 degrees.
But Ajmal, whose arm has an 8.5-degree bend at rest, says he is permitted to straighten his arm 23.5 degrees.
The PCB said: "Saeed was referring to the angle of the upper arm to forearm and not the degree of elbow extension."
The ICC introduced regulations in 2005 that permitted the 15-degree straightening of an arm after research showed almost all bowlers straightened their arm to some degree.
Ajmal, whose action has previously been cleared by the ICC, took 24 wickets as Pakistan whitewashed England 3-0 in the Test series in Dubai and Abu Dhabi.
After the conclusion of the third Test, he claimed he is allowed to bowl with a 23.5-degree straightening because an accident left his arm with a resting position of an 8.5-degree bend.
Ajmal told BBC Sport: "Someone is telling me my action is bad, but the ICC allow me to bowl 23.5 degrees because my arm is not good, but that's my problem. Apart from that, there is no problem with my action, it has been cleared by the ICC."
However, an ICC spokesman denied that Ajmal has a dispensation, saying: "Anything over 15 degrees is not allowed. At no stage have the ICC allowed any bowler to exceed the 15 degree limit."
In an attempt to quell the confusion, Pakistan team manager Naved Akram Cheema said: "The ICC's level of tolerance of 15 degrees relates to the degree of elbow extension that is permitted in the bowling action, i.e. the amount by which the arm is straightening.
"Previous tests conducted on the action of Saeed Ajmal show that the degree of elbow extension is well within ICC's tolerance levels."
England team director Andy Flower had already called for the ICC to review Ajmal's action.
"If that's the degree, then there's a problem," he said. "That's ridiculous. That is an ICC issue, though.
"They are there to police the game and make sure that it is played within the rules so they've got to scrutinise his action."