Hampshire batsman James Vince targets England 2015 World Cup selection
Last updated on .From the section Cricket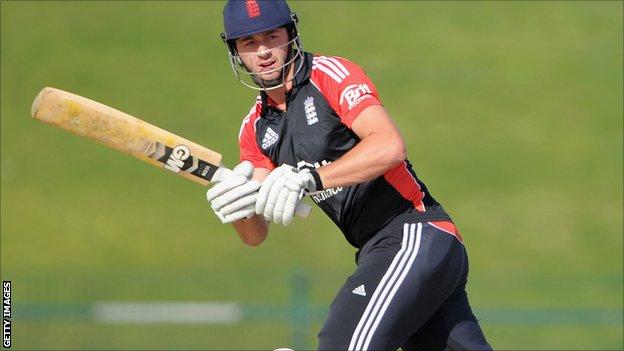 Young Hampshire batsman James Vince says he is targeting a full England one-day place by the time the 2015 World Cup comes around.
The 20-year-old has only just broken into the England Lions squad, having returned from two one-day series in Bangladesh and Sri Lanka.
"The Lions squad was picked preparing towards the 2015 World Cup so I am on the radar," Vince told BBC Solent.
"Hopefully if I have a good season this year, you never know."
He added: "Next year will be similar but focussing toward the 2015 World Cup, so if I have a good year this year for Hampshire there will be a Lions tour next year and hopefully I will get picked for that."
Vince played in just four of the combined 10 one-day matches against Bangladesh and Sri Lanka A, losing his place when the Lions played an extra spinner.
In Bangladesh he played three innings from the five one-day games, ending with a total of 74 runs and a top score of 44. He also played one innings in the two T20 games against Bangladesh, scoring 32 runs.
Against Sri Lanka A, he played in just one of the five matches, but failed to score a run.
Despite this, he says the experience has proved valuable - as has the opportunity to work with former England and Surrey batsman Graham Thorpe.
"Ideally I would have played in more of the matches but it was a good learning experience playing in Bangladesh and Sri Lanka which were different conditions to here in England," he said.
"Unfortunately the make up of the side meant I missed out on the majority of games in Sri Lanka. But there is nothing really I could have done about that."
Part of the Lions tour also included a game against the full England side and although Vince was out for just six runs, he still believes he has gained new attributes.
"This trip has given me experience of playing against spinners and it was great to play against the full England side," he added.
"I guess you can measure yourself up against them, how comfortable you feel playing against them. It was nice to know that is the standard you have to get to, to get to the next level."