England's Kevin Pietersen is frustrated by his poor batting form
Last updated on .From the section Cricket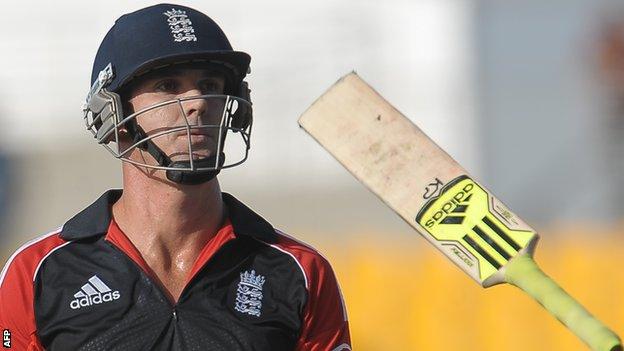 Kevin Pietersen has admitted he is frustrated by his one-day form for England but vowed to build on his opening partnership with Alastair Cook.
England face Pakistan in Dubai in the third game of the four-match one-day international series on Saturday.
While Cook has notched successive hundreds, Pietersen has scored just 14 and 26 in the two victories so far.
"I haven't scored the runs I wanted to. It's been very, very challenging," he told Test Match Special.
"The frustrating part is that I've always got myself in and then you get out.
"I've been lucky enough over the last 18 months that I've gone on and got some big Test hundreds and scored a lot of of runs.
"You can't have it your way all the time," added the 31-year-old, who made scores of 2, 0, 14, 1, 32 and 18 in England's 3-0 Test series defeat by Pakistan.
In the one-day games, England have rebounded from that whitewash in style so far and victory at the weekend will seal the series.
Sandstorms could yet threaten the fixture, however.
Speaking on Twitter, bowler Stuart Broad warned: "Training was highly unpleasant in the sandstorm, struggled to open the eyes! Conditions will have to change for tomorrow's game to be OK."
But, weather permitting, Pietersen said he was hoping for a repeat of the opening stands of 57 and 67 already recorded in the series.
He said: "To get ourselves to 60 or 70 is something we haven't done in a long time. We had done it one in five games and now we've done it two in two."
Pietersen, whose run of dismissals to spinners continued in the first two one-day games in Abu Dhab, said the Umpire Decision Review System (DRS) was making life even more difficult for batsmen on sub-continent and Middle East wickets.
"It's not a case of bad form at the moment, it's generally something all batters have to look at now, the way they play spinners with the DRS, especially in the sub-continent," he said. "The ball is not going over the stumps."
Asked whether batsmen had to change the way they played because of it, he replied: "One hundred per cent - or you're going to lose."