Mervyn Westfield jail term supported by ICC
Last updated on .From the section Cricket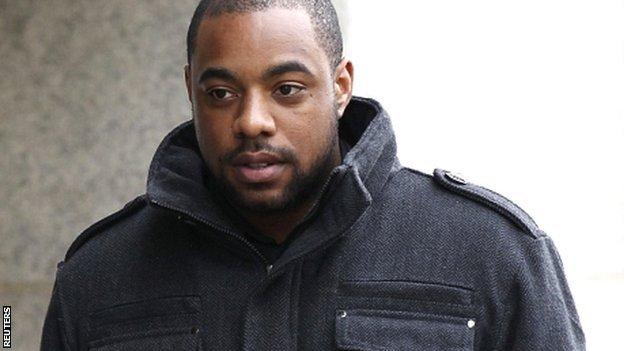 The International Cricket Council have backed the four-month jail sentence imposed on Mervyn Westfield.
The 23-year-old former Essex bowler was found guilty of spot-fixing last week and has been suspended from cricket.
"While the ICC takes no pleasure from anyone being sent to jail, it is a decision of the court we support," chief executive Haroon Lorgat said.
"I believe it would act as a deterrent to anyone who is tempted to sully the good name of cricket."
Westfield pleaded guilty last month to one count of accepting or obtaining a corrupt payment to bowl in a way that would allow the scoring of runs in a Pro40 match against Durham in September 2009.
It is believed he had helped to arrange for 12 runs to be scored in the first over of the match but in fact there were only 10.
The fast bowler has been told he will serve half the term in prison and a confiscation order was made for the £6,000 he was paid to influence proceedings.
The England and Wales Cricket Board Cricket Discipline Commission chairman Gerard Elias, QC, imposed an interim suspension pending a disciplinary panel hearing.
Westfield's former club Essex, who released him during the 2010 season, said: "This is a very sad day for all at the club.
"It is going to take a while for us to fully digest the comments of the judge, but as the ECB Cricket Discipline Committee has served Mervyn Westfield with an interim suspension as a result of his sentencing earlier today, the club is unable to comment on any aspect of this case."
ICC chief Lorgat added: "The ICC operates a zero-tolerance approach to corruption and will use everything within its power to ensure that any corrupt activity within the game is comprehensively investigated and, where possible, robustly prosecuted. We have always stated that we will follow every possible avenue to ensure the integrity of cricket is protected.
"In November 2010, the ICC Board required all members to implement a domestic anti-corruption code which mirrors that of the ICC and the fact that this offence took place in a domestic competition is a timely reminder for us never to be complacent."
"In the context of domestic vigilance, the ICC acknowledges the commendable steps taken by the England and Wales Cricket Board (ECB) in setting up their domestic anti-corruption ACCESS Unit."
During the verdict the court was told by Westfield's defence team that former Pakistan spinner Danish Kaneria had been a go-between in the deception.
Current Pakistan captain Misbah-ul-Haq, in Dubai preparing for Saturday's third one-day international against England, said the team were alarmed by the developments, which comes barely four months after three of its players - Salman Butt, Mohammad Asif and Mohammad Amir - were jailed for a plot to bowl no-balls in a Test match.
"The team is concentrating on their cricket and we want these things to stop and let us focus on cricket, so it's really, really not good for us," Misbah said.
"It should stop now - we are expecting no more of this sort of news, and we just want to focus on cricket - we just want to play cricket. It's really disappointing if something like that appears.
"Whatever decision somebody takes on that - the authorities will take whatever action they want to take.
"These issues are happening, we don't bother about that - we are here, and we just want to focus here. These issues are not here, we are here."