Pakistan v England, third one-day international, as it happened
Last updated on .From the section Cricket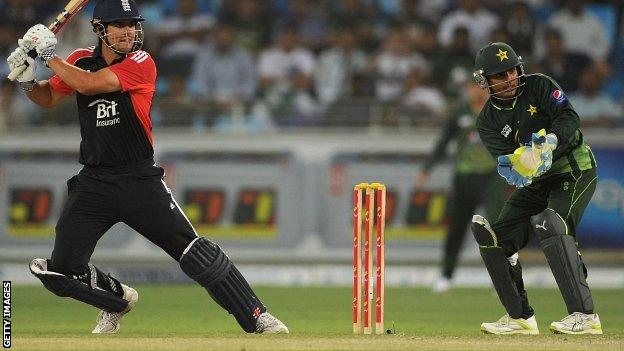 By Phil Dawkes
PLEASE MANUALLY REFRESH THIS PAGE (all times GMT)
GET INVOLVED: Tweet us using the hashtag #bbccricket, text on 81111 (UK) with "CRICKET" as the first word, or email tms@bbc.co.uk (with "For Phil Dawkes" in the subject line). Make sure YOU PUT YOUR NAME on your texts or we can't use them.
1835: That's it for our coverage of the third one-day international. Join us on Tuesday at 1030 GMT to see if England can seal a series whitewash.
1833: England captain Alastair Cook: "It was a great start. It was nice to put a match-winning partnership together at the top. Our bowlers were outstanding. To keep them to 220 was a fantastic effort. I think a lot of hard work, whether you win, or lose has gone into this. We kept our chin up during the Test series and we've stuck to our guns and got the results."
1830: Pakistan captain Misbah-ul-Haq: "Cricket is all about pressure and when you feel it things will go wrong. One thing we can improve is batting better to give our bowling a better chance. We must stick together."
1828: Unsurprisingly, Kevin Pietersen is the man of the match. Here's what he had to say:"Most imprortanly it's a series win for England away from home. It was nice to get some runs. I said yesterday I'm not at the stage where I don't know where my next run is coming from. I'm just getting out in silly ways. I was a bit more positive this evening. It's a great leveller cricket so there's no way I'm going to say I've cracked it."
Stuart Elleray on Twitter: "Excellent series win, great to see KP back in runs!"
Lewis Meagor on Twitter: "KP is back, form is temporary, class is permanent. What a player."
1817: Let us not forget that as well as a resounding single victory this win also seals a comprehensive series triumph, with a game still to go. After the intense disappointment of the Test matches in UAE it is fantastic to see the side bounce back so emphatically in the one-day game. It certainly makes an odd reversal: I thought we were brilliant at Tests and a bit rubbish at ODIs. It would appear that for this tour at least, cricket is back-to-front.
1815: It was also fitting that Kevin Pietersen hit the winning runs. He finishes on 111 not out, with Eoin Morgan unbeaten on 24.
ENGLAND WIN BY NINE WICKETS & WIN THE SERIES
38.2 overs - A fitting way to end this game as Pietersen hammers a drive off Cheema straight at Pakistan captain Misbah-ul-Haq and he misfields to let the ball skip to the boundary.
37th over - Eng 222-1
Morgan brings England even closer with a superb drive through cover for four off Afridi. He then claims a brace of runs with a flick round the corner and levels the scores with a superb straight drive down the ground for another boundary. Great to see from Morgan. Great to see from England.
From Charlie Drayton, via TMS inbox: ''Great moment for KP, fully deserved it. He's the first on the training pitch and last out. Great professional and role model."
36th over - Eng 211-1
A cut from Morgan brings Pietersen back on to strike, needing one run needed for a very important century. It takes KP three balls to claim the runs he needs, flicking of his legs for a two that takes him over the line. His first hundred in 39 England games. His eighth ODI century. Welcome back Kev. He celebrates by pulling a four off the back foot through mid-on. When he's good, the man is very, very good. England need 12 to win the match and the series.
From Jonathan Russ-Silsby, via TMS inbox: "What an ironic comment from Mark in Chipping Sodbury - 6 months ago we were all asking "when are England going to learn how to transfer their excellent Test match form into the one-day arena? Short memories we seem to have."
35th over - Eng 203-1
With Ajmal (1-40) having bowled out, Afridi returns and is promptly dispathed to the cover boundary by Pietersen, who rocks back and punches a back-foot drive. KP moves to 98. That becomes 99 soon after with a well-worked single.
34th over - Eng 197-1
England take the batting powerplay, a couple of overs before it is required, with Cheema returning to the Pakistan attack. Four dot balls are followed by a pull shot from Morgan that earns him two runs. The England batsman blocks out the final delivery, leaving his side needing 26 runs from 96 balls for victory.
Jake Guria-Garnett on Twitter: "This is the best I've seen KP bat since his 200 at Lord's, well played."
33rd over - Eng 195-1
Pietersen is brimming with confidence. So much so that he is now looking to take Ajmal on. He misreads the first delivery, though, and chips into the offside for a single to bring Morgan on to strike. Ajmal is then denied a second wicket as Morgan edges attempting to cut, but Adnan cannot hold on. Pietersen is brought back on to strike and again miscues a shot into the off side for two. He moves to 94.
From Mark in Chipping Sodbury via text: "When are England going to learn how to transfer their excellent one-day form into the Test match arena?"
32nd over - Eng 191-1
With his first ball, Gul sneaks one inside Pietersen's defence and the batsmen needs a moment or two to compose himself. The bowler then finds the edge of Pietersen's bat, but without a slip the ball skips away for four. From the penultimate ball, Pietersen hammers a pitched-up delivery to the extra-cover boundary to take him to 90 from 83 balls. He keeps the strike with a single.
Simon Hughes on TMS: "This is quite an extraordinary turnaround from a 4-0 Test series defeat. England have got the measure a bit more of the conditions and one critical factor is that Ajmal, the tormentor of the Test series, can only bowl 10 overs, plus he's been bowling a lot in the powerplays to try to keep the runs down. The other thing for the batsmen is you don't have men around the bat like you do in Tests, and so the batsmen who felt under pressure in those matches, don't feel so caged up here."
31st over - Eng 182-1
After a brief drinks break, Ajmal continues for Pakistan. Having begun conservatively, Morgan opens up for the second delivery and hammers the spinner down the ground for six. A superb shot. Nice to see Eoin getting in on the action. The batsmen then claims a brace of runs courtesy of a well-struck sweep.
From Michael Hurley, via TMS inbox: "It is great to see Pietersen getting some runs. I think the England fans have been very patient with him recently. We all know what he is capable of, and it is a very positive sign. Looking at the scorecard, his strike rate is excellent. A couple of 6's always helps! Well done England, Alastair Cook, again, and especially, Kevin Pietersen."
From Rachael McDonnell in Dubai, via TMS inbox: "Just sittimg with the Pakistani supporters in the stadium. They are cheering as loudly as ever for their team but happily high-fiveing us English whenever some good shots played, and sharing their picnics with untold generosity."
30th over - Eng 174-1
Umar Gal continues for Pakistan with Pietersen firstly taking him for two runs, then for one with shots into the leg side. Morgan faces four balls and scores his first run from the last. It is good to see Morgan sent in ahead in this situation ahead of Jonathan Trott. Morgan needs runs and should contribute to maintaining the momentum in a way Trott might not have done.
29th over - Eng 170-1
Eoin Morgan replaces Cook with England needing 53 to win. He wisely sees out the over without taking any risks. Ajmal has a wicket maiden to his name. For Pakistan, though, it is too little, too late.
28.2 overs - WICKET - Cook ct Adnan Akmal b Saeed Ajmal 80 (Eng 170-1)
The dream is over for Cook. He will not be the first English player to make three successive ODI hundreds. Ajmal is the man to claim his scalp floating a delivery that draws Cook into a nick to Adnan. I knew I shouldn't have mentioned the record in the previous entry. Sorry Alastair.
From Mike Pitcher, via TMS inbox: "Sitting here in Hong Kong, having travelled to Dubai for the 3rd Test when our batsmen looked absolutely dreadful, wondering what this wonderful game is all about."
28th over - Eng 170-0
Here we go again. Gul oversteps and from the free hit Cook pulls away to the mid-wicket boundary. That takes the England captain to 79 from 92 balls and closer still to becoming the first English batsman to score three successive ODI centuries. He takes no further risks, earning just one more run from a sliced cut down to third man from the final ball.
From Tom Kirby, via TMS inbox: "Re: Matt Gilbert on Twitter. Cook could well amass the most number of runs but you need a bit of sparkle, a bit of showbiz to be great, Cook doesn't do this however combine him and KP together and there is greatness!"
27th over - Eng 163-0
Is this Pakistan's last throw of the dice, in the last chance saloon? Ajmal returns and Pietersen goes riskily aerial with his first shot. His drive lands safe, though, near mid-off and two runs are added. Three singles and three runs from a wide (with Adnan failing to cut off a wayward leg-side delivery) add further to England's total.
26th over - Eng 155-0
This is now the highest opening stand for England in ODIs against Pakistan and you can see how much Cook and Pietersen are starting to enjoy themselves. Cook looks as confident as a cricketer can look as he cuts away for further runs, while Pietersen has that famous swagger back. Six runs from Afridi's over takes England past 150.
Rhys Morgan on Twitter: "I've never seen Cook look so comfortable in an ODI. Great stuff from him and KP."
Matt Gilbert on Twitter: "Cook has to be best batsman in the world right now...to be the greatest English batsman of all time in the future?
25th over - Eng 149-0
Another bowling change from a desperate Pakistan sees Gul return in place of Hafeez. Pietersen greets him by driving him for four through wide mid-on. That was vintage KP. It makes you wonder why it has gone missing so often of late? He reaffirms that by launching into a cover drive to a rising ball and smashing it to the boundary. Quality stuff. Gul shrugs. It could be worse. At least he didn't no ball.
24th over - Eng 138-0
Afridi continues but provides little to suggest England aren't destined for an extremely comfortabel victory. Cook and Pietersen add five singles between them. It is a very quiet stadium now. England won't mind one little bit.
Zodac on Twitter: "Watching England right now just makes the Test series more painful."
23rd over - Eng 133-0
Cook has used the pull shot to great effect so far this innings and he again earns himself a boundary through the shot off the bowling of Hafeez's first ball. This takes the target under 100. After a trio of singles, Pietersen drags the target down further with a straight six back over the bowlers head. The boundary takes Pietersen to 4005 runs in ODIs.
22nd over - Eng 120-0
Afridi comes on for Ajmal and immediately appeals for lbw having hit Pietersen on the pad with his first ball, but it pitched outside leg. That was more through desperation than belief. England add another couple of runs with ease.
Phil Gent on Twitter: "Wish I could watch the cricket but having to watch Scooby Doo with the kids!"
Holly Trubshawe on Twitter: "Gul has conceded more in 3 overs than Finn did in his entire 10 overs (and Finn took 3 wickets!)"
21st over - Eng 118-0
Hafeez replaces Cheema but proves equally as ineffective. England claim a couple of singles. The only way Pakistan can win this game now is to take 10 wickets. At the moment, they don't look like getting one.
Geoff Boycott on TMS: "There have been some good shots from Pietersen. He's not at his best, but he's getting there, this is a big step forward."
20th over - Eng 116-0
A cheeky little scoop shot down to fine leg off Ajmal's first delivery brings Pietersen two runs and a much-needed half-century. He picks up a further three courtesy of a neat late cut shot to the brink of the point boundary. England are cantering to victory.
19th over - Eng 110-0
Cook's dominance continues, helped by Cheema dropping one short for the England captain to hammer a pull shot to the mid-wicket boundary. He looks as composed and in control as it is possible for a batsman to be. He must be seeing it like a beachball right now. Pietersen's job is easy: just get the skipper back on strike. Worth noting, though, that KP now has his highest score of the tour.
Craig Atherton on Twitter: "Are we watching Pietersen's one decent innings of the series, just enough to get him selected for the next one?"
18th over - Eng 104-0
Alastair Cook is used to raising his bat in this series and he does so again to acknowledge the applause for his 50, brought up courtesy of a single off Ajmal. It is all too easy for the tourists. Even Pietersen is handling the Ajmal threat with ease. England really are on top.
17th over - Eng 103-0
Cheema returns to the attack as Pakistan look to discover a spark from somewhere. It doesn't start well, though, as a quick Pietersen single is rewarded with a further four runs courtesy of a shy at the wickets that hits but deflects away to the boundary. To compound their woe, Pakistan also spurn their first real chance for an opening when Pietersen pulls away in the air only for Azhar Ali to drop him. It wasn't a tough catch either. England cruise past 100.
From Tony, Kilifi, Kenya, via TMS inbox: "You were talking about strange reasons for"match abandoned". I've twice had that decision, due to military coups. At Lugogo in Uganda, Jan 1971, then Impala Club Nairobi Aug 1982. On both occasions, umpires seemed unaware of the bullets flying around. We eventually retired to the club house bar, for 3 days on both occasions. The joys of cricket in Africa."
16th over - Eng 93-0
The bowling powerplay is taken. But it changes nothing. Cook latches onto a short ball from Ajmal and punches through mid-wicket for four. Pakistan look forlorn. They desperately need wickets to make this a contest but do not appear to have any fight about them.
15th over - Eng 89-0
England are doing pretty much what they please at the moment. Four successive singles rotate the strike nicely, before Cook cuts for three and Pietersen adds the final flourish with a six straight down the ground. Afridi looks understandably dejected.
Geoff Boycott on TMS: "We just need another five overs of Umar Gul and we can all go home early!"
14th over - Eng 76-0
Another conservative over from England, who collect just two runs from it but looked in little danger of losing a wicket. All the pressure is on Pakistan.
13th over - Eng 74-0
Afridi causing a few problems, to Pietersen in particular, who has looked largely solid but still with brief flashes of discomfort. It's a good over from Boom Boom, but Pakistan need wickets.
From Chris Scott, London, via text: "Why does everyone compare one-day cricket to Test match cricket? Morgan being the prime example that good one-day players don't automatically make good Test players. Cook being the opposite of course, but wasn't he a class Test cricketer first???"
12th over - Eng 71-0
From his second ball, Hafeez briefly think he's beaten Cook in the flight but an inside edge saves the batsmen and gives him a single. England's openers continue in sensible fashion, picking out singles where they can. In theory, this is very much a match-winning platform. Long way still to go, though.
Ramiz Raja on TMS: "60-0 after 10 England can afford to play Afridi safely, that's the advantage of this wonderful platform."
Jonathan Cockayne on Twitter: "Where was this batting application and concentration during the Test series?"
11th over - Eng 67-0
Shahid Afridi into the attack with his tricky leg spin, and he's going to attack Cook from around the wicket. It makes no difference to the momentum, though, as Cook uses soft hands to angle a cut for four. Three more singles keeps the scoreboard moving.
Hyphae on Twitter: "Pietersen playing with confidence...that'll translate into rashness and the loss of his wicket!"
10th over - Eng 60-0
Ajmal continues to perplex Pietersen. He draws a false stroke from the batsmen with a superb doosra. Next ball, Pietersen is grateful to get off strike with a single. Ajmal continues to cause problems, though, and provokes an lbw call courtesy of catching the sweeping Cook on his pad. Not out is the decision, presumably as it was outside the line. However, Ajmal then tarnishes the over with a loose ball that Cook hits for four.
9th over - Eng 54-0
England can afford to be conservative against Ajmal, though, while attacking the bowler from the other end. Pietersen positions himself and swipes Hafeez away to the backward square-led boundary to take him to 24. Good footwork gets him a further run from a firmly-struck straight drive.
8th over - Eng 49-0
Quite rightfully, Cook treats Ajmal with respect. The opener is looking to get him away, largely through mid-wicket, but the bowler is a wily customer and the field well set. One run off the over.
Nick Myers on Twitter: "I can feel a Pietersen hundred coming!"
7th over - Eng 48-0
Another bowling change for Pakistan sees spinner Hafeez introduced. It does nothing to stem the tide of the in-form Cook, though, who cuts the second ball for four in stylish fashion. The captain secures a further run, as does Pietersen with a typical flick through mid-wicket.
Philip Van Mellaerts on Twitter: "Great to see Pietersen striding all over the wicket like he owns the place. Confidence."
6th over - Eng 42-0
Misbah has to do something here and he opts for an early introduction for spinner Saeed Ajmal, who has proven Kevin Pietersen's nemesis during this tour. Pietersen faces two balls, one of which he plunders for a single to long-on and the other he skips down to pat away.
5th over - Eng 40-0
That was painful. Unless you're an England supporter, that is. Gul helps the tourists out with a wide and a no ball from his first two balls. Pietersen's heave through mid-wicket from the free ball brings him just a single. Gul responds with another no ball immediately and Cook capitalises with a four from the free hit delivery, which is also a no ball. Cook goes one better from the next free hit and rocks back to plant a six into the stand behind deep mid-wicket. Misbah-ul-Haq's icy stare says everything. Luckily for Gul, he partially redeems himself with four dot balls.
4th over - Eng 25-0
England are finding runs easy to come by early on. Pietersen takes Cheema for three from the first ball, while Cook continues to recycle the strike with another well-run single after prodding to mid-wicket. Pietersen then gets a touch lucky with an attempted hook from a short ball that loops over wicketkeeper Adnan Akmal and down to the boundary. In no time, England have brought their target down under 200.
From Usman via text: "Three words: Typical Pakistani Unpredictability. That is all."
Guy Sinclair on Twitter: "Why is everyone going on about Finn not being in the Test team, clearly the problem was not our bowling. It was our batting!"
3rd over - Eng 16-0
It's proving to be a bit of a broken opening to the innings so far as both batsmen are being distracted by movement behind the bowler's arm. Not too distracting, mind, as Cook rocks back and punches Gul through backward point for four. However, after this he nearly chops on trying to repeat the shot. This yields a single. Pietersen pulls for a brace and sees the over out with a flick to leg that Shahid Afridi mis-fields and gifts England a run.
2nd over - Eng 8-0
It's Aizaz Cheema opening the bowling from the other end for Pakistan. Another early single brings Pietersen back on strike and his first ball, which flicks the batsman's pad, draws a further appeal for caught behind, which rightly proves unsuccessful. Pietersen is clearly looking to play the aggressor here as he flicks through mid-wicket to add a further two to the total.
Zain Talib on Twitter: "This total is defendable, Pakistan have defended totals less than this, and with their bowling attack, anything can happen."
1st over - Eng 5-0
Cook, who has of course made a century in both the first and second ODI of this series, gets England off the mark at the first available opportunity, working Umar Gul's first delivery into the leg side and darting through for a quick single. Pietersen, who has been in less impressive form than his captain, blocks his first ball but cuts his second superbly to the cover boundary. Pietersen is distracted by something behind the bowler's arm, and it puts him off enough to then flash at the final ball of the over, leading to unsuccessful appeals for caught behind.
1515: And we're back, just as Alastair Cook and Kevin Pietersen make their way out into the middle to begin England's pursuit of Pakistan's 222 total.
1445: We'll take a short break but TMS will have plenty to entertain you during the break, with ECB's Hugh Morris among the guests.
From Kieren, on a train heading north, via text: "I'm with Ramiz Raja on this one, anything around 220 will be a tough chase under the lights and against their spinners."
50th over - Pkn 222 all out
Pakistan plunder eight runs from the final over, bowled by Broad. Cheema unexpectedly chips in with four of them, largely thanks to a well-timed flick through mid-wicket. His and Pakistan innings ends in calamitous fashion, though, courtesy fo a final-ball run out.
49.5 overs - WICKET - Cheema run out 5 (Pkn 222 all out)
Gul clips the last ball away and claims one run but is reluctant to take a second and leaves the charging Cheema stranded. He turns to try and get back but only makes it half way before being run out.
Craig in Blackpool, via TMS inbox: "Finn should be the second name on any England team sheet at the minute after Cook. Outstanding bowling whenever called upon."
Ramiz Raja on TMS: "Finn's fitness and pace is up and he is tailor-made for international cricket. I think we can say England missed a trick by not playing him in the Test matches."
49th over - Pkn 214-9
Ajmal twice takes evasive action and gets away with it, plundering two runs in the process. His dismissal brings in Cheema, who grabs a single from his first ball and then watches on as Gul edges the final ball of the over past Kieswetter for four.
48.4 overs - WICKET - Ajmal b Anderson 4 (Pkn 209-9)
Anderson's pace is too much for Saeed Ajmal and he is bowled off his pads, while looking to punch the ball into the leg side. Last man Aizaz Cheema joins the action.
Ramiz Raja on TMS: "Absolutely fabulous bowling from Finn, Adnan Akmal was going nowhere against him, he just wasn't good enough. The tail doesn't seem to have any form or class with the bat, if you have a thin batting line-up your tail has got to come to your rescue."
48th over - Pkn 205-8
Finn ends his spell in fittingly superb style. Just one run conceded and another wicket taken. He ends with 3-24 from his 10 overs. His claim for a Test spot is beginning to look to strong to ignore.
47.3 overs - WICKET - Adnan Akmal b Finn 9 (Pkn 204-8)
Adnan's frustration gets the better of him as he backs away to make room to force Finn into the offside but is bowled instead. Finn is one more wicket away from yet another impressive four-wicket haul. He deserves it. Saeed Ajmal is the new man for Pakistan.
47th over - Pkn 204-7
With his partner frustrated at the other end, Gul decides to take action and he connects superbly with a Patel delivery to send it into the stand behind the bowler. Pakistan past 200.
46th over - Pkn 196-7
Finn returns and raps Adnan on the pad with his first ball. An appeal draws nothing from the umpire. Finn's line and length was a challenge for the Pakistan top order and it proves an even sterner test for the tail. Adnan Akmal can do nothing but bat each delivery out for a maiden. Yes, a maiden. In the 46th over. Superb stuff.
Ramiz Raja on TMS: "Even a 220-230 would be a good total, batting under lights has been difficult and I think the spinners will enjoy bowling on this track, with a bit of dew and grip."
45th over - Pkn 196-7
Samit Patel replaces Jimmy Anderson as the lights kick in at the Dubai International Stadium. Gul has taken it upon himself to propel Pakistan on as he chips one into the leg side to claim two runs. Pakistan are edging towards 200.
44th over - Pkn 191-7
I said limping. Clearly Gul has other ideas as he dances down to the pitch of Swann's fourth ball and plants it in the stand beyond mid-wicket. Beyond that it was another tidy over.
Geoff Boycott on TMS: "Pakistan have got to stop all these dot balls."
43rd over - Pkn 184-7
After threatening to go on the charge a few overs ago, Pakistan are limping towards a total now. Anderson dominates Adnan and Gul as you would expect a bowler of his class to do against the tail. Just one run is conceded courtesy of Adnan's flick to mid-wicket from the second ball.
42nd over - Pkn 183-7
Swann concedes a single to Adnan and then a brace to Gul but keeps the latter on strike for the remainder of the over without a further run being added. Solid stuff from the spinner.
41st over - Pkn 180-7
Anderson is neat and tidy, restricting the Pakistan pair to singles until finally the pressure tells on Afridi and a good over becomes a great one for England. Umar Gul joins Adnan at the crease. Anderson is now the leading English wicket-taker against Pakistan in one-day internationals.
40.5 overs - WICKET - Afridi b Anderson 51 (Pkn 180-7)
A key quick-fire double from England swings the game firmly in their favour. Afridi knew the responsibility was his to give his side a competitive total, but in attempting to flick away a straight ball to leg he is cleaned up by Anderson. England are now into the tail.
40th over - Pkn 177-6
It's Afridi's turn to raise his bat as he reaches 50 himself from 52 balls, courtesy of a single from the returning Broad's first ball. That can't be many Boom Boom 50s that include only four boundaries. He's played extremely well. The wicket follows, though, to take the shine off Afridi's joy. Adnan replaces brother Umar at the crease.
39.5 overs - WICKET - Umar Akmal ct Patel b Broad 50 (Pkn 176-6)
Broad claims his third wicket, but it owes as much to Samit Patel as it does to the bowler. Broad's short ball forces Umar to miscue his shot to mid-wicket, causing the ball to loop up and allowing Patel to dive to snare a catch low down. He gets criticised for his fitness the spinner, but that was very agile. Unneccessarily, a review is called for, but it only proves for certain that England have taken a key wicket.
39th over - Pkn 175-5
England turn back to Anderson and is treated with respect by a sensible, yes sensible, Afridi. Shahid and Umar pick up four singles, the latter of which sees Akmal move on to 50. He has played a key role in Pakistan's fight back, amassing that half-century from 88 balls.
38th over - Pkn 170-5
Finn is inches away from claiming a decisive wicket for England. He cuts one back from just short of a length and it darts through Afridi's defence but just over the stumps. Finn really is looking every inch an international bowler now. Afridi, though, has been every inch an international batsman for some time and he responds by lofting a drive straight back past the bowler for four. England won't mind that. It was a good length delivery and they will be happy to see Boom Boom taking more risks.
37th over - Pkn 164-5
Pakistan are playing this quite cannily after a disastrous opening. They are respecting the powerplay and refusing to get drawn into unchecked shots that cost them wickets, knowing Afridi could capitalise later. Afridi may be near a strike-rate of 100 but he has struck only two fours and one six. Broad returns for England. It is a good over with just three singles taken from it.
Nick Meekings on Twitter: "England's relative domination in the ODIs is nice to see but small consolation. For me Test cricket still means so much more."
36th over - Pkn 161-5
Pakistan take the batting powerplay as Finn returns to the England attack. With plenty of men on the leg-side boundary, the bowler adopts a short approach, which allows both Afridi and Umar to pick up runs but, crucially, not boundaries. It is a good philosophy from England and Finn is fulfilling his part with aplomb.
35th over - Pkn 157-5
Following a brief drinks break, Patel continues and does well to keep Pakistan's aggression at bay. He limits Afridi and Umar to prodding the ball largely to leg to plunder a series of singles. Afridi seems less inclined to swing away at Patel, aware of the danger his spin presents.
34th over - Pkn 152-5
Umar cuts Swann's first ball to pick up a couple of runs and sweeps to bring Afridi back onto strike. Shahid goes aerial with a sweep of his own, which falls safe and gives him a brace. A single from the next ball makes it six runs from the over. Pakistan are setting themselves for a big late charge. England could do with a wicket, ideally Afridi.
From Kush in London via text: "This is the closest we'll ever see to Afridi "digging in". His strike rate is above 90 though!"
33rd over - Pkn 146-5
In light of Afridi's eagerness to take Bopara apart, England sensibly make a bowling change that brings Patel back into the action. The spinner speeds through an over, with Pakistan steering deliveries into gaps to regularly pick up runs.
32nd over - Pkn 140-5
Afridi is clearly the man who can inflict maximum damage on England, but he and Umar are sensibly picking up 1s and 2s whenever they can. They regularly work Swann away to keep the scoreboard moving. Will Pakistan use their batting powerplay to allow these two to capitalise?
Ramiz Raja on TMS: "Pakistan going along at a good pace but it's all about batting out the 50 overs, it's important that this partnership continues for another 10 overs at least."
31st over - Pkn 135-5
Afridi stands as Bopara delivers. Shahid drives for a single, has strike returned to him next ball, then lofts a drive to the mid-off boundary. An Anderson mis-field (a rarity) in the mid-off area allows Boom Boom one more run to take him to 26 off 28 balls.
Sunil Gavaskar on TMS: "If Afridi can hang around Pakistan will be hoping to get to around 200."
30th over - Pkn 128-5
Well, it was only a matter of time before Afridi connected. He simply can't help himself. Swann's first ball is smashed down the ground for a straight six. He drills another to wide long-off, but Patel fields well to restrict it to two runs. Boom Boom adds another run with a drive to mid-on. The crowd have woken up a bit now that Boom Boom is in town.
29th over - Pkn 119-5
Ravi Bopara is into the attack with his medium pace. Afridi's eyes light up and he leans back to swing a short-arm pull through midwicket for four. After returning to the strike, Umar is similarly eager to pile into the Essex man but cannot connect with a couple of wild swings.
From Steve, bored in the office, in Chester, via text: "England don't need do do anything special from here just keep things tight, Afridi will get himself out if we restrict him of any 1s and 2s. And they hardly have a strong lower order!"
28th over - Pkn 114-5
Another good over from Swann that could have seen him claim the wicket of Umar. The batsman flicked away aerially to mid-wicket, but it was just beyond the grasp of the diving Samit Patel. Just two runs conceded as England continue to dominate.
Sunil Gavaskar on TMS: "The timing of the [Kieswetter] dive was a bit wrong but he's certainly been a lot better here that he was in India."
From Jareth, on the train to the Stadium of Light, via TMS inbox: "I'm torn between wanting us to skittle them out and soundly beat them to avenge the test whitewash, and wanting them to post a score competitive enough to allow Chef to go for his hat-trick."
27th over - Pkn 112-5
Broad fancies his chances of an lbw against Afridi but gets little response from Aleem Dar. The umpire's judgement is proved correct when replays show it was heading down leg. Unpertrubed, Afridi continues in typically aggressive fashion, swinging and missing before claiming a single. Next man Adnan Akmal will be on the edge of his seat.
26th over - Pkn 110-5
Never scared of going on the attack, regardless of the circumstances, Afridi swings away at Swann's second delivery, mis-timing his shot dreadfully, but he gets away with it and claims a single. Swann keeps it tight otherwise and concedes just two more runs.
25th over - Pkn 107-5
Umar angles Broad's second ball down to third man for a single, bringing Afridi to face. England shift their field appropriately, bringing in a slip in the knowledge that Afridi could well be tempted to swing away. Boom Boom keeps out two deliveries before pulling away to midwicket for a single. Umar returns to strike and gets lucky when his stab presents a low catch to Kieswetter, only for the keeoer to spill his one-handed diving effort.
24th over - Pkn 103-5
Swann continues to twirl away. Afridi gets off the mark with a little tickle to short leg and Umar adds a brace and a final single. It takes Pakistan past the 100 mark, but their position is precarious.
Jason McWood on Twitter: "Being a bit porky never hampered Shane Warne...."
23rd over - Pkn 99-5
Broad returns to the attack, concedes two runs from his second ball courtesy fo Umar's flick past midwicket, but other than that keeps it tight. Pakistan need something special now.
22nd over - Pkn 97-5
Swann concedes three runs early on but tightens up after and the run out makes it a very successful over for England. The new man is Shahid Afridi, who may be Pakistan's last hope for amassing a match-winning score here.
21.4 overs - WICKET - Shafiq run out 18 (Pkn 97-5)
Well that's something from nothing. Swann draws an lbw appeal after rapping Shafiq's pad but this is waved away. However, the batsmen attempt a run only to change their mind and Shafiq is forced to dive to try and get back into his ground. Alastair Cook quickly returns the ball to Kieswetter, who whips off the bails and a replay shows Shafiq's bat was in the air when this action was taken. That, my friends, is out.
21st over - Pkn 94-4
Much to his frustration, Shafiq is finding England fielders with regularity. He and Umar are able to keep the scoreboard ticking over with some well-taken singles from Patel's over. These two batsmen are starting to find a rhythm now.
From Martin in Perth, WA, via TMS inbox: "Re unplanned bodily functions - Phil, it sounds like you might have had a problem with your follow through."
20th over - Pkn 89-4
Anderson is just dragging his bowling a little short at times. After Umar nicks a quick single, Shafiq is able to slash away and earn a boundary down to third man. He wafts twice more to the following two deliveries but fails to connect with either to Anderson's relief. It's third time lucky for Shafiq, though, as he smashes one to the cover boundary.
19th over - Pkn 80-4
Another rapid over from Samit flies by with Shafiq unable to get off strike. The batsman had a couple of meaty swings but found only England fielders and the pressure increases with a superb maiden.
18th over - Pkn 80-4
Umar adds two runs with a push behind square before Anderson is wayward from his third delivery and the ball is diverted for four off the leg of Umar. Two further singles take Pakistan to 80.
Jack Allum on Twitter: "Can someone please explain to me how Patel is picked when he is in the condition he is in? He surely can't be fit."
17th over - Pkn 72-4
Patel continues and earns an lbw appeal with his fifth delivery as Shafiq tries to drill the ball through mid-wicket. Nothing doing, though. A steady stream of singles keep Pakistan ticking over.
16th over - Pkn 68-4
We're into the bowling powerplay as Jimmy Anderson returns to the attack. It's a solid return for the Lancashire lad. Umar nicks a quick single after dropping the ball into the off side, but then Shafiq flashes and is fortunate not to nick off to Kieswetter. Another run is added from the final ball from a neat angled shot down to third man by Shafiq. Pakistan are very slowly rebuilding here after England's four-wicket blitz.
Geoff Boycott on TMS: "I've seen quite a lot of people here for a Pakistan match but this is a pathetic crowd."
From Steve in Jarrow: "Once played in a game which was abandoned because the umpire was going to be late for Bingo."
15th over - Pkn 65-4
It's a double spin change as Samit Patel enters the attack. Pakistan work him around the crease to add a further five runs. And that's drinks.
14th over - Pkn 60-4
Graeme Swann and his lovely spin is into the attack and makes an efficient start, going for just a brace of singles.
13th over - Pkn 58-4
Such is Umar Akmal's style that after blocking four balls he unleashes on a slightly wayward delivery from Broad and hammers it to long-off for four. A further single follows from the final delivery.
12th over - Pkn 53-4
A rare wide from Finn starts the over, before Pakistan take a very risky single in the circumstances as Shafiq skips through following a dab to leg. Had Pietersen hit with his throw, Shafiq could have been in trouble. Umar is left to block until nicking a single off the last ball.
From Dan in Cumbria: "A few seasons ago our local cup final match was abandoned after the umpire fell on the wickets injured the batsmen and snapped the wickets while breaking his finger. Epic."
11th over - Pkn 50-4
Broad completes a wicket maiden. His second on the trot. The new man is Umar Akmal and there is a serious amount of pressure on his and Shafiq's shoulders.
10.3 overs - WICKET - Misbah-ul-Haq ct Swann b Broad 1 (Pkn 50-4)
It just gets better and better for England. Broad may have had a bad first over but he has struck back in style. Another off-stump delivery has its length badly judged by Misbah who looks to drive through cover but succeeds in only steering the ball to Graeme Swann at slip. Misbah looks to the sky, England high five around him.
BBC cricket correspondent Jonathan Agnew on TMS: "I prefer the one review rather than two because you can't gamble, you've got to be sure what you're doing is right, otherwise you've lost it for the team. I'd like to see one in Test cricket."
Tafi75 on Twitter: "Played a 20-20 game earlier today in Dubai. Could hardly see the batsman from long on. Thankfully the sandstorm has subsided."
From Naveed Jawaid, via the TMS inbox: "In Karachi 1997, our match was abandoned as ground was booked for a marriage ceremony going to happen in the ground later in the eve."
10th over - Pkn 50-3
Finn's consistency is rewarded again, not only with a wicket but with an economical over that sees the newly arrived Misbah-ul-Haq steal a single from a edgy forward defensive prod but no other runs. England are on top. Take Broad's first over out of the equation and it would look very worrying for Pakistan, if it doesn't already.
9.1 overs - WICKET - Hafeez lbw Finn 29 (Pkn 49-3)
England on a roll now. Hafeez gets half a step in to a full Finn delivery and is rapped on the front pad. The umpire's finger is quickly up in response to a vocal appeal and after briefly considering a referral, Hafeez opts against it and trudges forlornly from the pitch.
9th over - Pkn 49-2
This is much more like it from Broad. The wicket has transformed him as he adopts an efficient line and length to keep new man Asad Shafiq on strike for five deliveries without scoring.
8.1 overs - WICKET - Azhar ct Kieswetter b Broad 5 (Pkn 49-2)
Broad certainly can follow suit. And more. The bowler's first well-placed delivery draws a nick from the outside of Azhar's bat and Kieswetter has a simple take behind the stumps. The effectiveness of off-stump bowling, illustrated in one delivery.
8th over - Pkn 49-1
Finn brings a return to order, with the big man sticking to that simple off-stump line. Just two runs conceded and Pakistan's tide is stemmed. Now, can Broad follow suit?
Geoff Boycott on TMS: "Anything short they're going to go for and there's a good chance with an edge or off the middle it will go for four. Pitch the damn thing up full up and straight! Get it in the blockhole!"
From Nick the Physio in Bolton , via TMS: "Once played a club cricket game in Staffordshire when a bull raided the pitch scattering the fielders,batters and umpires!! We did finish though."
7th over - Pkn 47-1
England's first bowling change sees Stuart Broad on for Anderson. It's not a good start as a wayward delivery outside off is hacked to the backward point boundary by Hafeez. That was a gift. Another short, wide ball two deliveries later is again hacked away, this time by Hafeez, and Eoin Morgan catches at point. But wait, it's a no ball. The free hit is smashed to the cover boundary. As is the next ball. And the next. Wide, short and simply not good enough from Broad.
Matthew Wright, via TMS inbox: "You live a charmed life Phil. Setting sun behind the bowler's arm! I've lost my off-stump several times because of that!"
6th over - Pkn 31-1
Finn is hitting that corridor of uncertainty with regularity here and the Pakistan batsmen are duly respectful. Azhar skips through for a single from the fourth delivery, with Samit Patel scurrying round to collect and hit with a throw. You won't be surprised to learn Patel was a bit slow out of the blocks and Azhar makes it home.
From Chris Clarke, via TMS inbox: "As a teenager I recall playing a cricket match for the 1st Burnham Boys Brigade Company at St Andrews Way playing fields in Cippenham. It must have been about 1957. Play was hastily abandoned and we beat a hasty retreat when a gang of angry hornets took exception to our presence!"
5th over - Pkn 28-1
Much better over from Anderson. There is one wayward delivery - the last - which Hafeez chops away to fine leg, where Kevin Pietersen dives to prevent a boundary, but two runs are conceded.
From Pete, via TMS inbox: "I once was in a school match called off because the temperature in the middle was higher than body temperature. Spoilsport teachers."
4th over - Pkn 24-1
The new man following Farhat's dismissal is Azhar Ali, who treats Finn with the respect he has earned. The new man does manage to add two runs from a flick to leg.
3.4 overs - WICKET - Farhat ct Kieswetter b Finn (Pkn 22-1)
As in his opening over, Finn again plugs away on a consistent off-side line and is rewarded as he draws a nick from a push from Farhat, which Kieswetter dives to his left to take superbly. Finn is the man with the ball at the moment.
Simon Twells on Twitter: "Might be a bit more interesting to see how our batsman react when chasing down a score."
3rd over - Pkn 19-0
Anderson starts with a beauty that nips away from the ailing Hafeez. The batsmen looked uncomfortable there but gets off strike with a little prod to leg. Jimmy's inconsistent line costs him, though, as he concedes two boundaries, Farhat flicking both through leg. Positive start from Pakistan, enabled somewhat by Anderson.
2nd over - Pkn 10-0
After his wicket-taking exploits in the first two matches, it is Steven Finn opening from the other end for England. His is a far tidier affair than Anderson's as the Pakistan batsmen show the big pace bowler some respect. A solid line outside off-stump restricts them to just one further single.
Nicholas Rowe, via the TMS inbox: "A match I played in was abandoned because 'Sandstorm stopped play' - any other obscure reasons matches have been abandoned?"
Not that obscure, but I have played in a game abandoned because of sunshine, when the setting sun fell directly behind the bowlers arm from one end.
1st over - Pkn 9-0
It's Jimmy Anderson with the first over for England. Mohammad Hafeez and Imran Farhat opening for Pakistan. Pakistan are off the mark first ball with Hafeez chopping down to third man for a single. They then add the first boundary from the next ball as Farhat flicks one of his legs to the fine leg boundary. Pakistan make it a good first over by adding a further four runs.
1058: Alastair Cook leading England out on to the pitch at the Dubai International Stadium. We'll be under way very soon. As expected it's a packed crowd. Not really.
From Bilal Vorajee via Twitter: "Cant wait to seet Alastair Cook bat and get another century, come on England!!!"
From Tony in Leeds, via the TMS inbox: "Don't worry about the technology regression, it's a bit like watching Sir Geoffrey's batting - slightly painful with nothing happening for minutes at a time, but somehow strangely comforting."
1052: Yesterday also saw England's women get their five-match Twenty20 series with New Zealand off to a winning start courtesy of a six-wicket victory in Wellington. Anya Shrubsole was the hero for the tourists, taking 5-11 in her four overs.
1049: Before we get under way here, there are results from elsewhere in the world of cricket to either bring you/remind you of: in Wellington yesterday, New Zealand beat South Africa by six wickets in a Twenty20 encounter, while in Sydney Sri Lanka beat Australia by eight wickets via Duckworth/Lewis in a Triangular Series match.
1045: TMS is now up and running over on BBC Radio 5 live sports extra. Head over and let Aggers, Geoffrey and the boys guide you through the action. As well as me, of course.
From BBC Sport's Tim Peach in Dubai: "At the Dubai International Cricket Stadium - sandstorm seems to have lessened - conditions still not great, though."
1042: You may have seen yesterday that England's cricketers needed to don sunglasses to protect their eyes from the sand as it stormed its way around Dubai. No suggestions as yet that the match is under threat, but Jonathan Agnew has tweeted to suggest it won't be very pleasant for the players today due to the grainy stuff.
1039: Unfortunately, you won't be able to enjoy this service in all its refreshed glory as technical problems mean we're having to adopt a minimalist approach. I and the rest of BBC Sport are hugely apologetic for this.
1034: TOSS NEWS
The coin goes up and Misbah-ul-Haq calls correctly. The Pakistan captain opts to bat. Their hopes of notching their first win of the series are not helped by the absence of Younus Khan through illness. Asad Shafiq replaces him. They have also made a change of of wicket-keeper with Adnan Akmal, replacing Abdur Rehman taking the gloves from his brother Umar Akmal. England are unchanged, as you would expect.
1030: Welcome all to what could well be England's UAE redemption. After being comprehensively outplayed in the recent three-Test series by Pakistan, Andy Flower's side have rallied in impressive style for the one-dayers. Victory here in Dubai will see them convert an unassailable 2-0 lead in this four-match series into a winning one. If I was you I'd forget about that shower, surround yourself with a vast collection of easily-digestible snacks, put your feet up and enjoy.