Spot fixing: Cricketers must police themselves, says players' chief
Last updated on .From the section Cricket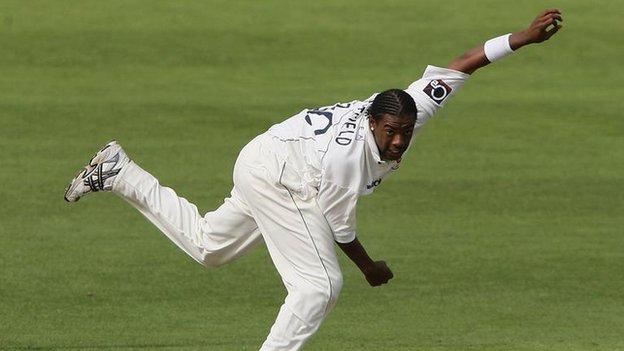 English cricketers must keep each other honest if they want to avoid the same fate as Mervyn Westfield, according to players' chief Angus Porter.
Professional Cricketers' Association boss Porter believes a strong dressing-room commitment to playing the right way is vital to weed out corruption.
He added: "We can establish a culture which says this game has to be honest."
Westfield pleaded guilty at the Old Bailey last month to one count of accepting or obtaining a corrupt payment of £6,000 to bowl in a way that would allow the scoring of runs in the opening over of a Pro40 match against Durham in September 2009.
The payment came to light when another Essex player, Tony Palladino, went to Westfield's flat in September 2009, where the bowler showed him "the most money he had ever seen".
In court, Westfield's defence team claimed that former Pakistan spinner Danish Kaneria had been a go-between in the deception.
Kaneria was arrested in connection with the case but later released without charge.
Palladino reported the incident to two team-mates, with senior Essex players making the decision to report the incident six months later in March 2010.
PCA chief executive Porter told BBC Radio 5 live: "What I do think is positive is when within a dressing room we can establish a positive culture led by the captain and senior players.
"If we establish a culture where it has to be played straight, and we will demonstrate this to everyone who joins our team in everything that we do, I think that's our best defence."
"We saw this demonstrated at Essex, that a more junior player went to the senior players. The senior players got their heads together, worked out what to do and did the right thing."
Porter has previously called for an amnesty for players who report suspected cases from the past to ensure they do not fall foul of International Cricket Council laws about withholding information relating to corruption.
Following the Westfield court case, the Pakistan Cricket Board (PCB) has said it will cooperate fully with any England and Wales Cricket Board investigation into former Test leg-spinner Kaneria.
PCB legal advisor Tafazzul Rizvi said: "The PCB will cooperate totally with the ECB if it holds an inquiry into this matter.
"It is a serious matter for us and we will now be examining the judgement and evidence placed before the court during the trial."