Graham Gooch is made England's full-time batting coach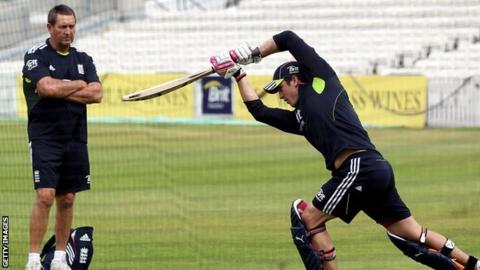 Graham Gooch has been appointed England's full-time batting coach by the England and Wales Cricket Board.
Gooch, England's consultant batting coach since November 2009, will now take on the role full-time before the Sri Lanka Test series in March.
Gooch, 58, will work with England's centrally contracted and squad players.
Graham Thorpe will continue as ECB lead batting coach, working with batsmen on the England Performance Programme and those selected for England Lions.
Confirmation of Gooch's upgrading to a full-time batting coach role comes in the wake of the disappointing three-match Test series against Pakistan, in which the world's number one-ranked side were hammered 3-0, largely down to the failure of their batsmen.
England's batsmen only once totalled more than 300 in an innings in six attempts in the United Arab Emirates - and only five players (three of them - Alastair Cook, Jonathan Trott and Stuart Broad - in the same innings, in the second Test at Abu Dhabi) made half-centuries in the series.
England now move on to Sri Lanka next month for a two-Test series before hosting West Indies and South Africa in two three-match series this summer, then returning to the sub-continent in the autumn to play India.
"We have a challenging period of cricket ahead of us," said England team director Andy Flower. "And I am very much looking forward to continuing to work closely with Graham as we look to improve across all formats of the game.
"Graham has an excellent relationship with our batsmen and is already an important part of our management team so I am very pleased that he will be joining us on a full-time basis."
After retiring as a player, former England captain Gooch started worked as head coach of Essex in 2001, stepping down in 2005 but continuing as a specialist batting coach whilst also assuming commercial duties for the county.
In 2009, he also became England's part-time batting coach, but he quit Essex three months ago to concentrate on his role with the national side.
Prior to his appointment, England players had hit six Test double centuries between them in 15 years, but they surpassed that total in just 15 months.
"I am delighted to be taking on the role of England batting coach on a full-time basis," said Gooch, who played 118 Tests for his country.
"I will now have the opportunity to spend a lot more time with the players and other coaches both in the build-up to series and during the series themselves.
"With the talent we have within the batting unit, and those pressing for places, we can continue to develop and improve as a side."