Guernsey lose by 78 runs to hosts Singapore
Last updated on .From the section Cricket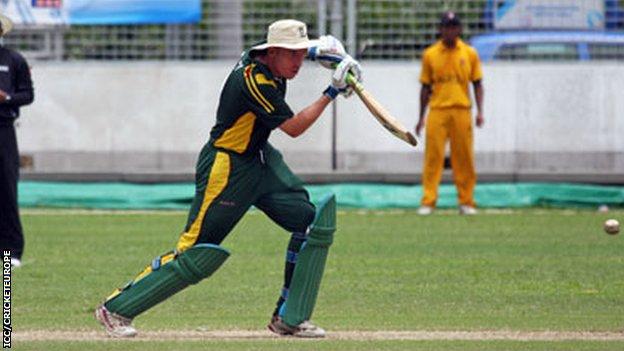 Guernsey boss Andy Cornford says he is disappointed that his side's 16-game unbeaten run in international cricket has come to an end.
Cornford's team lost by 78 runs to Singapore in the ICC World Cricket League Division Five tournament.
The island side bowled out hosts Singapore for 223 but only managed 145 in reply, with Jeremy Frith hitting 76.
The loss came in Guernsey's second match after they beat Bahrain by nine wickets in their opening game.
"If we're honest as a group we didn't perform to our levels and Singapore outplayed us," Cornford told BBC Guernsey.
"To restrict them to 224 was a really good effort and one that really we felt we should have been able to chase down.
"Bowling-wise we're going nicely at the moment and we just need our batters to fire."
And Cornford said it was important that his batsmen helped out Frith, who was the only islander to score above 20 in the match.
"We always say that the top six need to get around 80% of the team's total and we mustn't just rely on Jeremy.
"His record is fantastic and he's consistent but we've got to make sure the other batsmen in that top six put in performances to take the pressure off Jeremy and help chase down the scores."
Jamie Nussbaumer and Stuart Bisson both took three wickets for 42 runs, as Guernsey took the last five Singapore wickets for just 28 runs.
The loss comes after a comprehensive win over Bahrain on the opening day.
Guernsey first skittled the side out for just 49 runs off 13.5 overs, as Nussbaumer took five wickets for 19 runs, before the island side reached their target in 12.5 overs.
And Cornford said that he would not make any dramatic changes to the side ahead of their third game against Argentina on Tuesday.
"Now's not the time to start pulling the team apart, we've had a lot of successes and today was one under-par performance in a long line of successes.
"We've got to go out in the next three games and produce our best cricket and if we do that we're going to force the other teams to play extremely well."