Eoin Morgan says he has no need to adapt to play Test cricket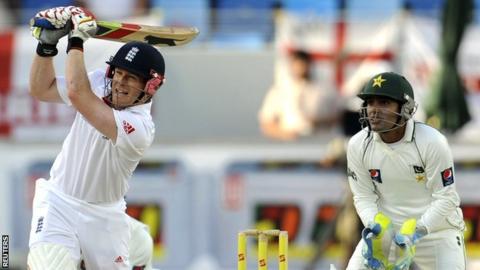 England batsman Eoin Morgan insists that he has no need to adapt his batting style to play Test cricket.
The middle-order player with a reputation for big hitting struggled to play Pakistan's spinners in the Test series in the United Arab Emirates.
Morgan's scores against Pakistan were 24, 14, 3, 0, 10 and 31, all below his overall Test batting average of 31.38.
"I think my Test place has always been under pressure," the 25-year-old Irishman told BBC Sport.
"I have never really scored enough runs to justify cementing it.
"It's been an up and down tour."
Morgan, who first came to English cricket with Middlesex in 2006, has been a feature in England's Test team since the retirement of Durham all-rounder Paul Collingwood 13 months ago.
The exciting batsman, famed for his unique stance and a grip developed while playing hurling as a youth, has plenty of international experience playing for England at Twenty20 and one-day level. But, asked whether his attacking style needed to change to ensure he established himself as a Test batsman, Morgan was unequivocal.
"Will there be a change of approach? Absolutely not," he insisted. "The mental game still stays the same.
"It's worked for me in the past and hopefully it will continue to do so."
Morgan believes that, despite his side's disappointing showing in the three-match Test series in the UAE, England's subsequent one-day series win against Pakistan was an excellent achievement.
"The Test series was up there with the toughest experiences I've had in cricket," he told Test Match Special.
"The standard that we came up against certainly surprised us. Their skill levels were a lot higher than ours.
"That's the reason the results were as they were. Pakistan deservedly won.
"The Test series didn't go quite as well as we'd hoped, but the one-day series has certainly made up for it."