Ricky Ponting: The man who epitomised Australian cricket
By Marc Higginson
BBC Sport
Last updated on .From the section Cricket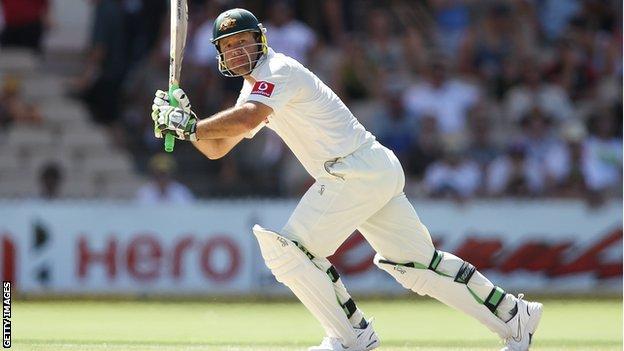 Ricky Ponting, one of the most uncompromising of Australian cricketers, heads into international retirement next week as one of the most decorated players and leaders in history.
Snarling and abrasive, he never took a backward step - especially against the old enemy, England.
However, for all his spats with the opposition, which were borne out of a competitive spirit to win matches for his country, Ponting is regarded as one of the greatest batsmen the game has ever seen.
Only Indian maestro Sachin Tendulkar has scored more Test runs than Ponting's haul of 13,366 at an average of 52, while he is also second to Tendulkar in the one-day list with 13,704 at an average of 42.
Perhaps former England captain Michael Vaughan summed him up best on Twitter: "The best batsman I had the privilege to play against was Ricky Ponting. He played better against me than Sachin did. Both incredible but if I had to pick one it would be Ricky. Australian cricket will not be the same without him."
Born in Launceston, Tasmania on 19 December, 1974, cricket played a big part in Ponting's early years - his dad Graeme turning out for local club Mowbray and his uncle, Greg Campbell, playing four Tests for Australia.
He was always destined for big things - he signed a bat sponsorship deal at the age of 12 after scoring four centuries in a week in a junior cricket competition and legendary wicketkeeper Rodney Marsh later labelled him the best teenage batsman he had ever seen.
Ponting took the fight to the opposition and scored 96 on his Test debut against Sri Lanka in 1995, aged just 20, in Perth - the same ground he will end his international career against South Africa.
However, such precocious talent was in danger of being unfulfilled when, in early 1999, he was suspended for three matches after a nightclub brawl left him with a black eye.
He addressed his off-field problems and was soon back as an ever-present in the team which won the World Cup in England later that year - he would go on to lift the trophy twice more.
While players like Shane Warne, Glenn McGrath and Adam Gilchrist often took the headlines, Punter, as he was nicknamed, was one of the key components in an Australian team which dominated world cricket for the best part of a decade.
Batting at number three, he demoralised bowling attacks with his flashing blade - the hook and pull shots synonymous with the dashing strokemaker.
Whether it was the fast, pacy wickets of his homeland, or the slow, spin-friendly conditions of the subcontinent, Ponting generally flourished.
England batsman Kevin Pietersen described the 37-year-old as "one of the greats. I always got excited playing Australia so I could watch him bat up close."
Ponting took over the Australian Test captaincy when Steve Waugh retired in 2004, inheriting a team at the peak of their powers.
Legends of the game like Warne, McGrath and Gilchrist continued to keep the Baggy Greens at the top table of world cricket under their new skipper, but Ponting's bristling character was tested in 2005 when England won the Ashes 2-1 on home soil.
It was the first time in 16 years that England had won the famous urn and Ponting was hurting, judging by his now-famous outburst at the home dressing room at Trent Bridge after being run out by substitute fielder Gary Pratt.
"It was something we'd never seen before," said Pratt. "It was the Australian captain being rattled and showing it. It was a massive psychological blow."
That was not the only time Ponting clashed with England and he often received abuse from the stands.
"It used to make me sick every time the great Ricky Ponting, one of the great people I've met, would walk on to the ground, and the England supporters would boo him," reflected his old batting partner Justin Langer.
"I never quite got that; I found it disrespectful, and hard to stomach really, but that's life, that's sport, certainly in this country."
Ponting and the other stellar names in the team made it their mission to wrestle back the Ashes, which they did in style by whitewashing the tourists in 2006-07 - the skipper topping the run charts with almost 600 runs at an average of 82.
Andrew Flintoff's side were ruthlessly hammered and it was the perfect stage for a cast of legends to bring down the curtain on their career.
Warne, McGrath and Langer stepped down, with Gilchrist and Matthew Hayden in the twilight of their careers.
The Aussies were in transition, and Ponting bore the brunt of the frustrations when England won two more Ashes series (2009 and 2010-11), ensuring the Tasmanian became the first Australian captain to preside over three Ashes defeats.
The latest loss to England proved particularly painful, given the dominance of Andrew Strauss's side in a 3-1 triumph down under, and it would not be long before he gave up the captaincy, after seven years in control of the Test team and nine in charge of the ODI side, following a World Cup quarter-final exit in March of the same year.
Not before, however, he had become the most successful Test captain of all time - under his leadership, the team won 48 out 77 Tests, 16 of them in a row between December 2005 and January 2008, and 163 out of 227 one-day internationals, including the 2003 and 2007 World Cups.
After stepping back into the ranks, Ponting bounced back with 643 runs at 80.38 during the Australian Test summer - before losing his one-day place following a poor run of scores only weeks later.
A proud Ponting sensed the clamour for change was becoming deafening and announced his retirement from that form of the game, but stayed on in the Test team under the captaincy of Michael Clarke.
However, after a return of just 20 runs in the first two matches of the series against South Africa, he decided to step aside and let Australia plan for two Ashes series in 2013 without their batting stalwart.
"I'm sure he'll be admired in England now that he's retired, but he'll leave the game as a legend," concluded Langer.