Alec Stewart column: Ricky Ponting still a class act

By Alec Stewart
Former England captain and BBC Radio 5 live summariser
Last updated on .From the section Cricket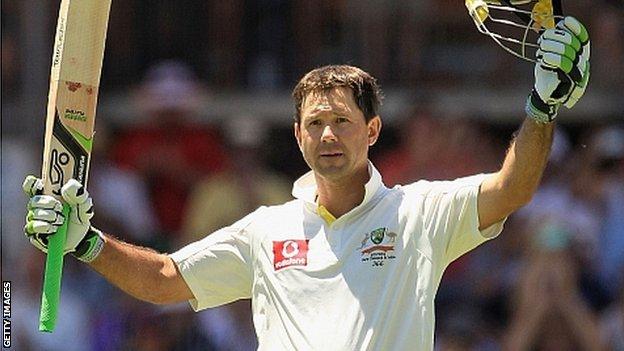 Ricky Ponting's axing from the Australia one-day squad should not have come as a surprise to him. He is a very experienced cricketer, he has been a captain and he knows how the selection policies work.
I have always said that it doesn't matter how old or young you are, if you are not performing, you deserve to be dropped. And a return of 18 runs in five innings is not good enough for anyone.
He will not be around for the 2015 World Cup, so the selectors have made a decision both for now and for the future.
You never want to see great players denied the chance to go out on their own terms but he is continuing his Test career where he still has a lot to offer Australian cricket and remains a class act.
Just look at his recent form against India, where he scored a double hundred, a century and three fifties in six innings.
He is a true great and he would certainly rank as one of the top five batsmen I played against in my career, alongside Brian Lara, Sachin Tendulkar, Rahul Dravid and Jacques Kallis.
I first saw Ponting as a 17-year-old when he played for the Australia Chairman's XI against England at Lilac Hill at the start of the 1990s. Even then, he looked a fine talent and a very confident batsman.
After that we went on to play against each other in four Ashes series, and he got the better of us every time.
He's a proven match-winner - he takes the attack to the opposition, is good under pressure, and is strong against all types of bowling.
Ponting is one of those players who, when he gets in, goes big. He doesn't just score 70, or 110, he scores big hundreds.
He is also a brilliant fielder and his attitude epitomises how I interpret Australian sport. He is a tough cookie and he won't give an inch on the field, but off it he's a really good fellow.
Ponting will have his eyes firmly set on the 2013 Ashes series in England, but how long he goes on beyond that will depend on his appetite for the game.
To play at the highest level into your late thirties, you need to have a love for the game and a personal pride in maintaining your level of performance and fitness.
Ricky says he is still enjoying the challenges that go with international cricket, but once that enjoyment goes it is definitely time to put the kit away and look back on what has been a great career.
When I called it a day in 2003, I knew I didn't want to tour any more. I announced that I would be retiring at the end of the South Africa series and it was then down to me to perform to a level to stay in that side.
Ricky will know that if he doesn't score runs, his place will come under scrutiny - but he will be determined to go out on a high.