Pakistan v England: Jonathan Agnew column

By Jonathan Agnew
BBC cricket correspondent in Dubai
Last updated on .From the section Cricket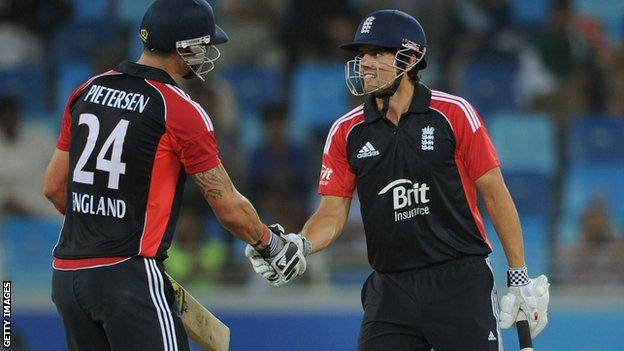 There are a number of reasons why you sometimes see a dramatically different scoreline in a one-day international series from the preceding Test series.
Often you will see a team give it their absolute all in the Tests and then the same team will fold afterwards. I can cite a number of occasions when I've seen that happen - I remember South Africa doing it last time they toured England, for example.
Another reason in this case is Alastair Cook's batting. England's 50-over captain has given them really good starts and, towards the end of the series, his efforts have been backed up by Kevin Pietersen's return to form.
The captaincy has helped Cook, as he evidently thrives under it. Leadership is good for him, although he is still learning how to be a fielding captain with his bowling choices and field placings.
With the bat, a key to his return to form in the one-dayers has been his footwork. He was starting to drive well again, in the way he did to such prolific effect in Australia last winter.
As for Pietersen, prior to the third game of this series, it had been 39 one-day international matches since he had scored a hundred. But the man can obviously bat and, as soon as he remembered that, away he went.
He played some audacious shots in scoring his back-to-back tons. The pressure is off his shoulders now and hopefully he will take his form into the Sri Lanka series, where the spinners he will face will not be as good as those he has come up against here.
It is also, it must be said, very different batting in one-day internationals when there aren't so many men round the bat and spinners have to bowl more defensively. Pakistan didn't pick a sensible team either, and Umar Akmal missed important chances behind the stumps.
But so much of form is in the heads of the players. Once the likes of Pietersen and Cook play with confidence and their heads are in a good place, they start batting beautifully.
In the field, England's bowling was magnificent in the one-day games - but then so had it been in the Tests. The seamers James Anderson, Steven Finn and Stuart Broad were all excellent, and having a new ball at each end helps too as I think it suits the way England play cricket.
I like Finn. He's very tall, accurate, patient and not histrionic. He has been groomed well at Middlesex by Angus Fraser - famously histrionic himself, of course! He bowls it at a good speed and a lovely length.
England's performance in the field has been helped by good catches from the likes of Samit Patel and Craig Kieswetter too.
There is also competition for places in the one-day side, which I like, and is something I think there should be more of in the Test team.
The team was rotated at the end of the series, which - on the other hand - I generally don't like. I always felt, as a player, you should play your best team. And I also feel if people are paying to come and see you, you want to see the best team play.
I understand why England are doing it though - these one-day international series should just be three matches really as they drag on.
There were mixed fortunes for the one-day debutants - poor old Jos Buttler got a second-ball duck, but Danny Briggs looked nice and steady and he's still very young.
England lost 5-0 in their last one-day international series in India and everyone assumed, after what happened in the Tests against Pakistan, that they would get hammered here - but they didn't.
Let's hope they can move on now.
You can listen to Jonathan Agnew and Geoff Boycott's review of the day's play on the TMS podcast.