Yorkshire announce £460,000 deficit for 2011
Last updated on .From the section Cricket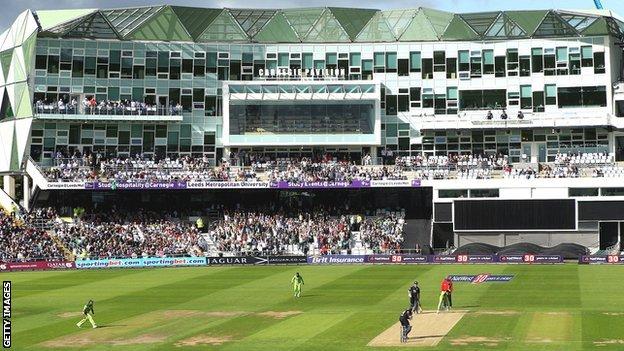 Yorkshire County Cricket Club have announced a loss of £460,000 for 2011, their second consecutive deficit.
The Headingley-based club lost £1.8m in 2010 following a costly experiment of hosting the neutral Test between Australia and Pakistan.
A club statement said: "These results are in line with expectation and are significantly improved over 2010.
"The results are consistent with forecast and reflect the club not staging a Test match in 2011."
The club generated a turnover of £5.4m throughout the year and will confirm the post-tax loss to members at their AGM on Saturday, 24 March.
This year Headingley will host England's third one-day international with West Indies on Friday, 22 June, followed by the second Test with South Africa beginning on Thursday, 2 August.
The statement continued: "2011 attendances were hugely encouraging, with over 12,000 people attending the Friends Life T20 match against Lancashire and a sell-out for the one-day international against Sri Lanka.
"2012 will be a much better year for the club financially with the return of a full international match schedule.
"Advance ticket sales for both the England v South Africa Test match and the England v West Indies ODI are higher than hoped for at this stage and, with international cricket guaranteed at Headingley Carnegie Cricket Ground until 2019, the club is now far more confident about its financial future."