Anti-corruption training to be mandatory for counties
By Jimmy Smallwood
BBC Sport
Last updated on .From the section Cricket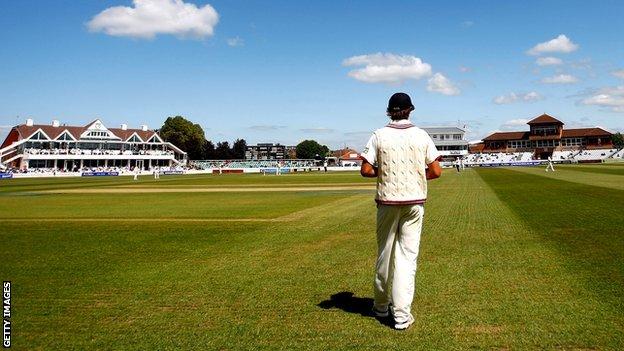 Cricket chiefs will visit all counties to enforce anti-corruption training and are considering sanctions for players who do not complete it.
"We're in discussions with the England and Wales Cricket Board on sanctions we might apply to encourage any who don't do it voluntarily," he told BBC Sport.
"We want everybody to do this."
Corruption in the county game has been in the headlines after former Essex county cricketer Mervyn Westfield was jailed for four months for admitting a corruption charge relating to 'spot-fixing' in a 40-over game against Durham in 2009.
The county game's chiefs believe players and are emphasising the importance of enhanced player training and awareness.
"We think it is appropriate that we should ask all players playing in England to participate in the training," said players' chief Porter.
"We think this is the best anti-corruption training in cricket anywhere in the world."
The anti-corruption training module takes the form of a half-hour computer assessment, and the PCA estimates that 67-70% of first-class cricketers in England have so far completed the course.
Certain county coaches have also been through the process - although they are under no obligation to do so - and there are plans to extend the scheme to cover county academies.
All overseas cricketers who play for a county in the forthcoming season - which starts on 5 April - will also have to take the training, regardless of the length of their contract, the PCA has clarified.
"Anybody joining a county club during this season - for example on a short-term contract to play Twenty20 - will go through the same training," Porter said.
And while the PCA is keen to stress it does not expect to have to resort to enforcement or punishment, it is considering what might be effective sanctions.
"We're discussing that with the ECB at the moment," said Porter.
"I think it's highly unlikely that we're going to get to [sanctions], but the ultimate sanction would be a player's registration could get suspended until they did the training.
"I don't expect to be in that position but we may have to threaten it to one or two people to make sure they understand that we're serious."