Isa Guha column: 'Visiting Christchurch was sad'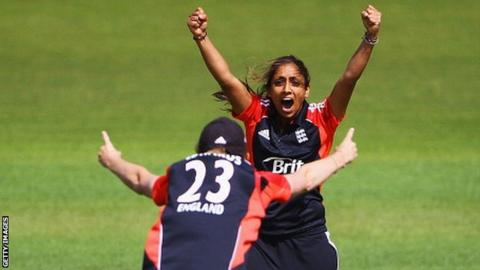 The Twenty20 series against New Zealand has gone extremely well for England, with us completing a 4-0 whitewash.
Anya Shrubsole has been outstanding with the ball and has been backed up well by the spinners.
Our batting has also been continually pushing the boundaries, and contributions from everyone led us to a really amazing result.
The third game in Auckland was overshadowed by the first anniversary of the Christchurch earthquake.
It was an emotional occasion for all of those involved, especially the Kiwi women's team who witnessed the scenes first hand.
When we visited Christchurch at the start of the tour it was sad to see that the town centre was still cordoned off and the hotel we had stayed in on a previous tour was completely destroyed.
It has been nice venturing to different parts of New Zealand, though. Although travelling to Wellington, Hamilton, Auckland and Invercargill have been passing visits I've been able to get a taste of what each town has to offer.
Wellington was the most vibrant by far and I hope to return. Visiting the beach near Auckland on our day off was also a nice break and a perfect opportunity to get rid of the T-shirt tan that cricketers so frequently develop over long tours in the sun.
The flights have got progressively worse, however, and although I'm pretty relaxed the flight to Invercargill really unnerved me.
You know it must be bad when Danni Hazell, the toughest girl in our side, is sat quivering in her seat. It felt more like a dodgy theme park ride than a smooth plane journey, only with the threat of a 20,000ft drop. I think the near-sideways landing topped it off.
Back on the field, we showed real character in one game to come back to win from being reduced to 14 for 4 - it just shows we have the strength to recover from any position to win a game of cricket.
Our fielding is something we have wanted to focus on and training days have involved being split into two teams - Jenny Gunn's 'Top Gunners' which I am part of and Lydia Greenway's 'Green Army'. Like any sports team we get very competitive and the celebrations get more and more animated each time. Greenway's side are leading 4-3 but we're just keeping it interesting.
Now we return to Christchurch, where we look to build on our T20 victory and take momentum into the ODI series, which starts on Wednesday.