Alec Stewart column: Morgan may struggle to earn Test recall

By Alec Stewart
Former England captain and BBC Radio 5 live summariser
Last updated on .From the section Cricket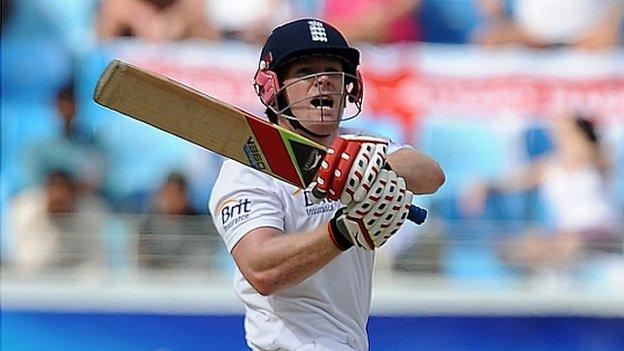 Eoin Morgan's omission surprised me a bit because of the consistency the England selectors have shown in recent years.
They have a proven track record of giving people chances and I thought they would give him the Sri Lanka tour and then make a decision at the end of that.
However, Morgan's recent form has been so poor that you can fully understand their decision to leave him out.
When he made his Test debut against Bangladesh in 2010 he was picked on potential. He had already proved himself as a fine one-day player, but had very little first-class form with Middlesex.
It was a bit of a gamble, and unfortunately his technique has been exposed at the highest level.
When you look at his stance, there is a lot of movement before the ball arrives, with his head ducking and his knees bending alarmingly. I understand he is a fast learner, but he has to develop a more solid technique both in attack and defence.
To score runs you have to have a method that allows you to stay at the crease for a long time against all forms of bowling and that is what he is still working on.
He thinks on his feet, and he's a cool customer, but you judge people on runs and he hasn't produced in his short Test career so far at the levels you would want from the number one Test side in the world.
Morgan wasn't the only one to perform poorly in the Test series against Pakistan, but unlike Kevin Pietersen and Ian Bell, he didn't have the runs in the bank to fall back on.
The Dubliner's biggest problem now is how is he going to get back in to the Test side. He is going to play in the Indian Premier League so he's not going to get the chance to play for Middlesex in four-day cricket at the start of the season and stake a claim for the West Indies series, starting on 17 May.
In going to the IPL, he is hindering his prospects of a return to the Test team and letting Ravi Bopara, Steven Davies and Samit Patel jump ahead of him.
But Morgan is a professional cricketer taking a professional decision. He is a banker Twenty20 player and he knows he will earn well in the IPL.
You can't say there's a right way or a wrong way because these are decisions that people have to make in every work of life.
Beyond the Morgan debate, England have picked a squad that gives them plenty of options for the Sri Lankan conditions.
If they are going to pick six batsman and a wicket-keeper then Bopara will bat at six as a straight swap for Morgan. But, who is to say that Prior won't go to six, with Bresnan at seven, Broad eight, Swann nine, Anderson 10 and Panesar 11?
I don't think Patel is good enough to bat at number six yet, but he could go in at seven and offer a third spinning option.
Patel is a good cricketer, who is hopefully seeing the light as to what is required to be an international cricketer cricket-wise and fitness-wise, and with his talent he could become a Test number six in the future.
There's no out and out reserve batsman in the squad, but that is where I see Davies. People say I'm biased with my Surrey connections but I have seen him at close quarters and this lad can be looked upon, like Prior, as someone who is good enough to play as a batsman and a keeper.
Some people would have preferred to see Jonny Bairstow in the squad, but you have to have your two best wicketkeepers in Sri Lankan conditions, where there will be a lot of spin bowling.
Bairstow's glovework is not good enough for Test cricket, but with his work ethic I'd like to think it soon will be.