Martin Saggers - from Test cricketer to first-class umpire
By Ben Croucher
BBC Radio Kent
Last updated on .From the section Cricket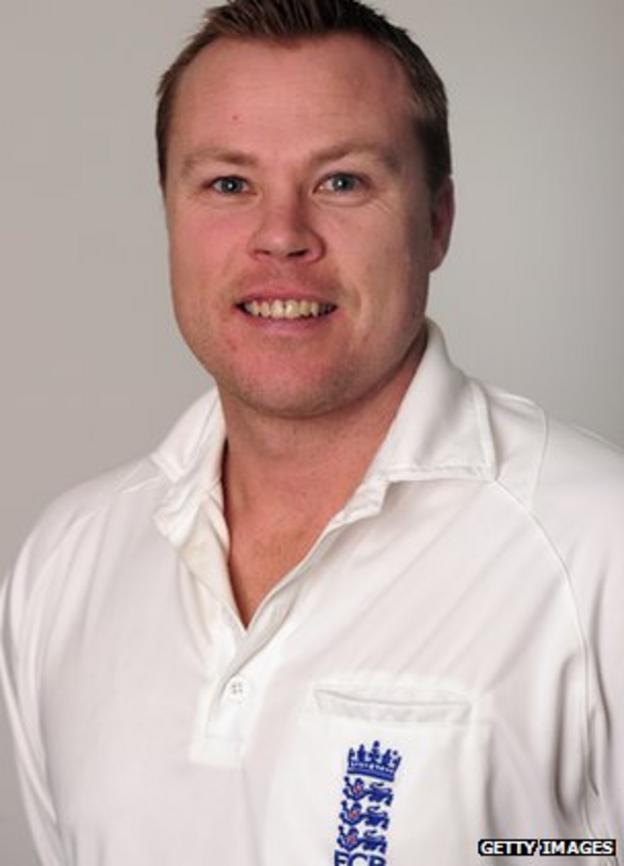 For most cricketers, the delight in taking 50 wickets in a season, representing their country or helping their county to national success is enough to satisfy their appetite for the game.
Martin Saggers is not most cricketers.
In 2002, aged just 29, and a year before making his Test debut, Saggers had already begun preparing for life after cricket.
Ten years later he is about to begin his second career as a full-time first-class umpire.
"Life after cricket is a long one," Saggers told BBC Radio Kent. "I still wanted to be involved in the game."
"I had a kick in the rear end because I'd been released by Durham in 1998, and I suppose then it could have been it for me. My cricket career could have been short lived and over."
Instead Saggers signed for Kent and enjoyed a hugely successful decade at the St Lawrence Ground, during which he played three Test matches for England.
But in 2009, with his knees failing him, the younger generation forcing their way into the Kent side and all his officiating exams passed, Saggers made the decision to end his career.
"I spoke to the ECB [England & Wales Cricket Board] and they were fully aware of my decision to go into umpiring," he said.
"I got a knee injury and that pretty much put the writing on the wall. I spoke to the ECB again, told them that my body had had enough, and that I wanted to go into umpiring.
"They put me on the reserve list the following year and gave me my opportunity."
The former right-arm paceman spent the next two years honing his trade on the second eleven circuit, taking charge of tourist and university fixtures too.
Towards the end of the 2011 season, Saggers, from Kings Lynn, was charged with the responsibility of standing in first-class fixtures on the English county circuit.
"People around the grounds used to see me turn up and say 'I didn't realise you were playing for Northants.'
"Yes, you will get a few eyebrows as if to say 'Are you old enough?' But what age do you need to be to be an umpire?"
At 39-years-old, Saggers will be the one of the youngest full-time umpires on the county circuit and one of a handful of former professional cricketers to swap bat and ball for a light meter and counter.
It is a transition he believes has eased his passage into the next phase of his cricketing career.
"Things have gone well so far. I seem to have a good rapport with the players and hopefully that will continue.
"Having played cricket, I find it easier to move into umpiring at the highest level."
Saggers rejects the notion that having been a fast bowler for 15 years gives him a greater knowledge when it comes to decision-making.
"I don't think it matters. There's plenty of guys who have done both.
"You have to look at the facts in front of you. I don't think you can think too much on your past as a player.
"You've got to look at each individual delivery and what each ball is doing," he added.
"I've got to make sure I'm doing everything I possibly can to get the right decisions and to get on with the players so they respect my decisions.
"Experience is always what is needed in any profession. The more I do, the more I'll learn."
Saggers' learning curve will be steep with four-day, one-day and Twenty20 fixtures crammed into the modern county game.
He believes his background will be helpful when it comes to the physical demands of the job.
That does not mean umpires are immune to illness of course. The father-of-two recalls a dodgy lunch leaving him bed-ridden during a fixture last year.
In general however it is the mental aspect of the job he expects to find most testing.
"This season is going to be a demanding year," he told BBC Radio Kent. "Speaking to some former umpires, they say it'll be a massive difference.
"Every game you do is high profile now and there's always a lot of onus on you.
"The demands of the players nowadays with the professionalism getting greater and with the money involved, they want the umpires making the right decisions."
As with most professional athletes, determination and ambition is pre-programmed into his personality.
As Saggers embarks on his new career, his aims are simple.
"You've got to have ambitions," he stated. "I want to go into the one day internationals and test matches and hopefully be involved in cricket around the world with the IPL, BPL and the Big Bash too.
"There's so many tournaments and competitions and they're always looking for the best umpires.
"Hopefully one day I can get up there and be the best."
Kent supporters hoping to see their former hero in action are likely to be disappointed, as Saggers will not umpire his former county for at least two years.
Unless, of course, his ambition to umpire at international level is quickly fulfilled.