Adam Ball & Daniel Bell-Drummond learning from internationals
Last updated on .From the section Cricket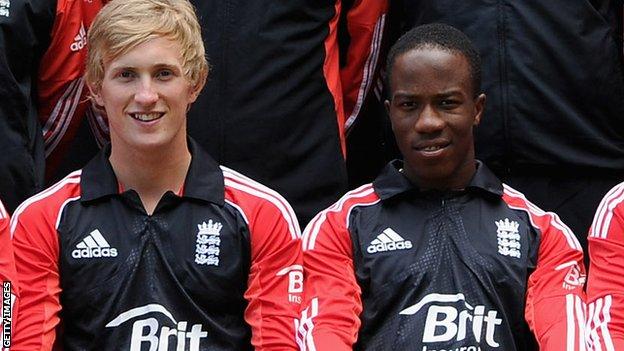 Kent pair Adam Ball and Daniel Bell-Drummond aim to use their international experience with the England Under-19 team to develop their domestic game.
He told BBC Radio Kent: "It's enabled me to progress in the first class game and start putting performances in."
Bell-Drummond added: "It's the best experience I can get to be an international cricketer."
The duo were called up to the England U19 squad to tour in Australia at the start of April, meaning they will join James Tredwell and Azhar Mahmood in missing the start of Kent's domestic campaign.
All-rounder Ball captained the U19s on their recent tour to Bangladesh which England lost 5-2.
Despite mixed fortunes for both the team and Ball himself, the all-rounder felt he was stronger for the experience.
"I probably haven't had the best of times with the 19s. Over the years I have progressed as a cricketer and that's the main thing.
"I've been able to play international cricket and learn my trade in that environment," he added.
Opening batsman Bell-Drummond meanwhile has been a revelation since his ODI debut in 2011, scoring 599 runs in 17 matches.
But with at least four testing fixtures to come in April, Bell-Drummond did not feel that the pressure was on him to score the bulk of the runs.
"It's been an honour to go out to those countries and play against the teams," he said. "It can only improve my game.
"There'll be a few challenges to come our way but I'm looking forward to rising to the occasion and battling hard.
"Everyone in that team is a proven player and deserves to be with their country. Everyone knows what they're looking to achieve so I don't feel too much burden on my shoulders."
Bell-Drummond concluded: "It's the closest thing to first class cricket.
"If I keep scoring runs, especially against other international teams, the fact I can adapt to those teams and keep scoring runs against them gives me real confidence."