Jenny Gunn reported to ICC for suspect bowling action
Last updated on .From the section Cricket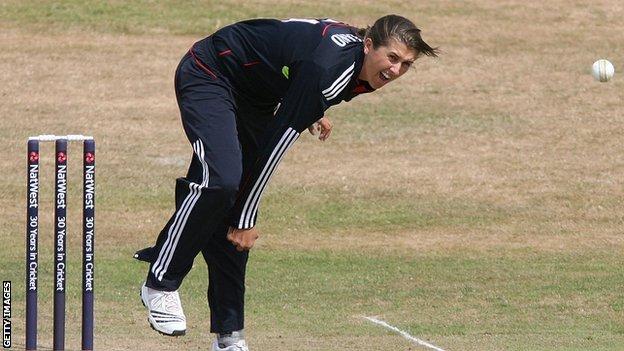 England women's vice-captain Jenny Gunn has been reported to the International Cricket Council (ICC) for a suspect bowling action.
Gunn was reported and cleared of an illegal bowling technique in 2009.
BBC Radio 5 live cricket reporter Alison Mitchell wrote on Twitter: "Gunn is free to continue bowling until she undergoes independent analysis."
The player's previous report was under an old system of analysis, but this time her action will be scrutinised using the same regulations as the men's game, under new rules established in October 2009.
The rules state any bowler cannot straighten their arm more than 15 degrees during the act of releasing the ball.
Former England skipper Clare Connor, head of England women's cricket, said: "Jenny Gunn's bowling action was analysed and passed as legal in 2009 and so it is unfortunate for her that its legality has been called in to question once again.
"Jenny will continue to be available for selection for the remaining two one-day international matches in New Zealand and will then have the full support of the England and Wales Cricket Board as she undergoes the testing process required by the ICC."