Dav Whatmore named Pakistan's new coach
Last updated on .From the section Cricket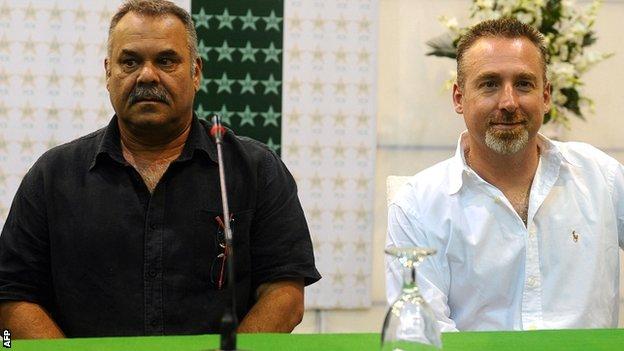 Former Sri Lanka and Bangladesh coach Dav Whatmore has been appointed the new coach of Pakistan.
The 57-year-old, who played seven Tests for Australia in 1979, has agreed a two-year contract to replace Mohsin Khan, who had been in temporary charge.
Englishman Julien Fountain will become the team's fielding coach and has also signed a two-year contract.
"We don't want peaks and troughs," Whatmore said. "We want the team to be at a good level for a long period."
Under Mohsin, Pakistan completed a surprise 3-0 Test series victory over the world number one-ranked team England in February.
They were expected to win the one-day international (ODI) series as well but lost all four matches, and were beaten 2-1 in the Twenty20 series.
Pakistan are currently fifth in the Test rankings and sixth in ODIs.
"It will take time to get them to the top," Whatmore admitted. "To achieve anything, you have to take small steps. We are focused on those steps now rather than the ultimate goal."
The first challenge for the new coaching structure will be the Asia Cup triangular series against India and Bangladesh this month.