Isa Guha column: 'Charlotte Edwards embodies our progress'
Last updated on .From the section Cricket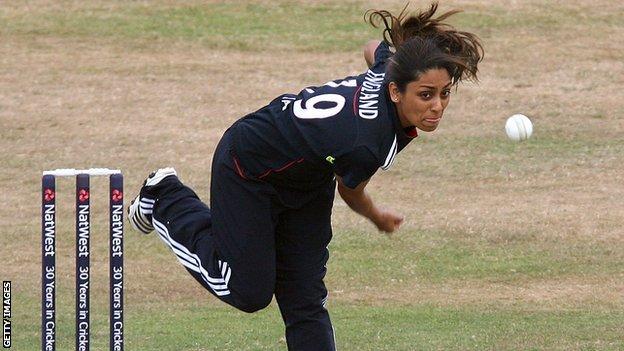 We came to New Zealand looking for a whitewash and that is exactly what happened. We have won seven out of seven and it has been a pleasure to see all our hard work over the winter has paid off.
The game was the coldest and windiest day that England women have been involved in and, after waiting five hours at the ground to play because of the weather, I witnessed something really special once we were put in to bat.
As an athlete there are times in your career where, during a game, any decision you make seems to be the right one. The bowler bowls where you want, you don't have to think and you are so 'in the zone' that you are not aware of anything else around you.
I have seen Charlotte Edwards in this state of mind on many occasions but this was the best by far as she scored 137 off 88 balls to help us to 219 in 26 overs and captain us to another series win.
She is the perfect example of the women's game moving forward as she tries to reach new heights and keep pushing the team.
It has certainly rubbed off on everyone and, along with our head coach Mark Lane and the rest of the support staff, this has become the strongest squad I have ever been involved in.
This was a tour to remember, and happily I decided to bring along my Dad's camera as photography is something that has always interested me. From the outset I was labelled 'Getty Guha' and soon picked up the 'all the gear, no idea' tag.
However, I was able to put it to good use when Sarah Taylor, who has been wintering here, took us up to Port Hills, which overlooks Christchurch and where I was able to get a beautiful snap of Jupiter, Venus and the moon all shining brightly in the night sky.
In times like the five-hour wait for the second ODI, you need to keep yourself entertained and in our dressing room that usually involves playing pranks, learning a dance routine, reading a book or playing darts.
I used that time to practise my end-of-tour dance routine with our strength and conditioning coach. It was more along the lines of Ross and Monica from Friends than Torvill and Dean.
But for all the fun we've had on tour, in the end the success we've enjoyed is testament to how hard everyone has worked.
Next year is an important one with Twenty20 and ODI World Cups to fight for. But I know that we are in a great position to win both trophies.