Michael Klinger to stand in for Phil Hughes at Worcester
Last updated on .From the section Cricket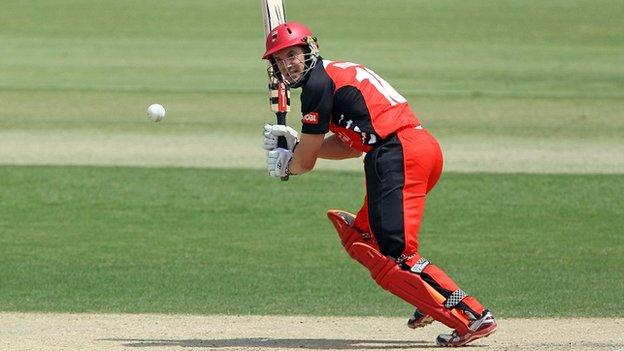 Michael Klinger is to stand in for Australia batsman Phil Hughes as Worcestershire's overseas player in the early weeks of the season.
Hughes' arrival has been delayed until late May after he was included in Australia's international squad training camps.
South Australia captain Klinger, 31, has an average of over 50 in 72 first-class innings for the state.
He scored the third double century of his career against Tasmania last week.
Klinger has also scored heavily in the limited-overs form of the game, averaging 41.32 in all List A cricket.
And he was the highest run scorer in the 2011-12 Ryobi One-Day Cup campaign, amassing 498 runs at an average of 55.33.
"I saw Mike play out in Adelaide against New South Wales in October," said Worcestershire director of cricket Steve Rhodes. "And his skill, attitude and maturity as a player made me sit up and take note.
"He has recently captained South Australia to the domestic one-day title and his batting was one of the main reasons for the success."
Hughes commented: "I now have commitments with Australia that will delay my arrival at Worcestershire until late May.
"While it has cut my time in the UK back, I am very confident that I will be better prepared and ready to play my part in what should be a successful campaign for Worcestershire."