Hampshire BPL duo Sean Ervine and Kabir Ali wait for pay
Last updated on .From the section Cricket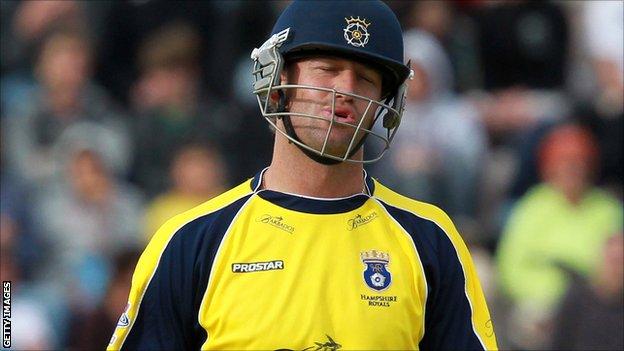 Hampshire duo Sean Ervine and Kabir Ali have confirmed they have still to be fully paid for their participation in the recent Bangladesh Premier League.
Kabir's team, the Barisal Burners, reached the final of the inaugural competition while Ervine's team Duronto Rajshahi reached the semi-finals.
But all-rounder Ervine says he is not unduly worried by the lack of payment.
"I haven't been paid, but it's the same for most of the players, there is no drama," Ervine told BBC Radio Solent.
"At the moment we are just waiting, but I am in no rush really.
"They can't afford not to pay overseas players otherwise the tournament won't happen again next year."
The Professional Cricketers' Association first raised concerns at the end of February that county players taking part would not have their contracts fully paid up.
But like Ervine, pace bowler Kabir is confident he will be fully paid soon for his time in Bangladesh.
"We are still in talks about the money but at the moment I haven't got all of what I'm owed," Kabir told BBC Radio Solent.
"I believe our owner is very good and there are a few issues with the board and money going in and out of the country, so I'm sure they will sort it out."
But despite the delay in their payments the Hants pair say they would have no hesitation in going back to play next year.
The pair faced each other in the semis with Ervine hitting 82, including a six off Kabir, before being run out by his Hants team-mate in the last over.
"It was everything I hoped for and bigger," said Ervine, who fetched £15,700 at auction.
"It was an awesome tournament for me and a great experience. We were getting about 10 and 20,000 people and, believe me, they were loud.
"We had a good run and managed to get into the semis but we just didn't hold our catches. I got a decent total in the semi, which I think was my career best.
"I wouldn't think twice about going back out there. Definitely. It's great preparation for the season with Hampshire."
Kabir, who faced Shahid Afridi, who will return to play Twenty20 cricket for Hampshire this season, in the final, added: "I enjoyed it very much. I was a late replacement but we did quite well out there and did well to reach the final.
"I started off nervously in the tournament but I picked up from there and I think I bowled well and managed to improve my bowling.
"Because it was set up in such a short space of time there were a few things that didn't go to plan but I am sure they will work hard to improve it for next year. It was a good experience and learnt a lot."