Rahul Dravid retires from international cricket 'sad but proud'
Last updated on .From the section Cricket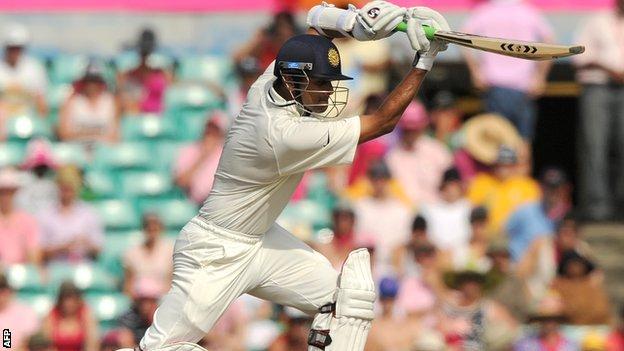 India batsman Rahul Dravid has retired from international cricket.
The 39-year-old has scored 13,288 runs in 164 Tests since making his debut in 1996, second only to compatriot Sachin Tendulkar, and has made 36 centuries.
Former skipper Dravid, nicknamed "The Wall" for his patient batting style, also holds the world record of 210 outfield Test catches.
"It's time to move on," he said. "Once I was like every other boy in India with a dream to play for my country."
He added: "I have had a wonderful time. Now it's time for a new generation of young players to take it forward and make history.
"It was about playing with dignity, upholding the spirit of the game. I have tried my best. I leave with sadness but also with pride."
Dravid, who made the announcement at a news conference in Bangalore on Friday, said he had retired from "domestic and first class cricket", but he will still play in the Indian Premier League (IPL) for the Rajasthan Royals.
He retired from one-day cricket last September, having scored 10,889 runs in 344 internationals.
India were the number one side in Test and one-day international cricket in 2011, but have dropped to third in both categories and been whitewashed 4-0 in their last two Test series in England and Australia.
"It was decided after Australia I would assess my career," Dravid said. "I would have probably come to the same conclusion even if the Australia tour went a different way.
"I felt it was the right time for me to move on. I have had a glorious run. I knew deep down the time was right. I was happy and comfortable in what I had achieved and done.
"If you play for 16 years, there are times you have incredible highs and disappointing lows.
"Even though I have failed sometimes, I have always given it my best shot. There are no regrets.
"I played with legends - I was fortunate to play in a pretty successful era in Indian cricket."