Surrey's Dernbach, Hamilton-Brown & Meaker extend deals
Last updated on .From the section Cricket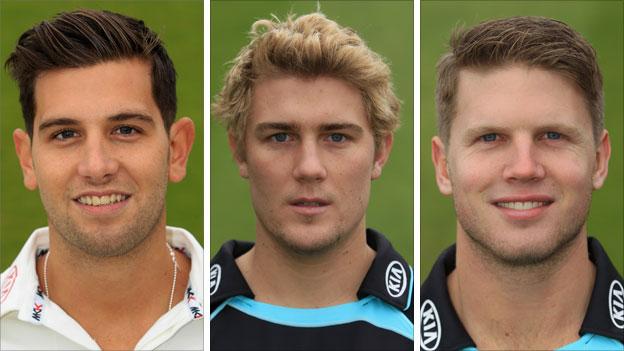 Surrey's Jade Dernbach, Rory Hamilton-Brown and Stuart Meaker have signed one-year extensions to their contracts.
The deals mean the trio will remain at the Oval until the end of 2014.
Hamilton-Brown, 24, has scored 3,362 runs for Surrey, and captained the side to promotion from Division Two as well as lifting the CB40 trophy last season.
Dernbach, 25, has taken 182 wickets in 65 first-class games, while fellow fast bowler Meaker, 23, took 47 first-class wickets last season at 22.80.
Both bowlers have made their England one-day international debuts over the past 12 months, Dernbach against Sri Lanka in June, and Meaker during the tour of India in October.
Team director Chris Adams said: "Both Jade and Stuart are key elements of what we're trying to achieve at Surrey.
"They have both been at the club since a young age, shown continuous improvement and are now ready to take their game to the next level."
On former England Under-19s captain Hamilton-Brown, Adams added: "Every developing team needs a strong leader and Rory has given that to us many times over in the last two seasons.
"It allows the club to plan for the long-term future and for Rory to continue his development as a captain and a cricketer as he looks to fulfil his ambition of playing at the highest level."