England earn ICC pay-out after rain halts Dunedin Test
Last updated on .From the section Cricket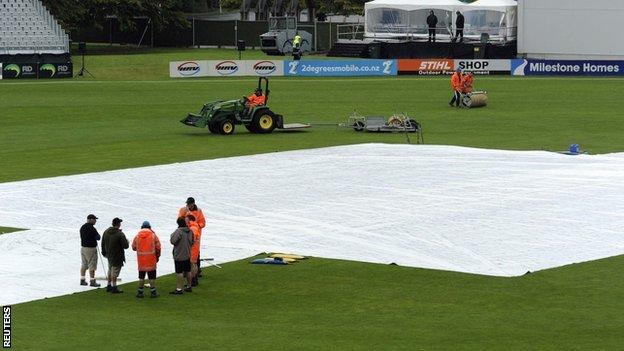 England are guaranteed to earn $175,000 (£111,666) from the International Cricket Council for being the number one Test side on 1 April - thanks to the weather in New Zealand.
But with New Zealand 137-2 chasing 401 to win the first Test, rain prevented any play on the final day in Dunedin.
England's players have just flown to Sri Lanka for a two-Test series.
They will hold their first training session on Monday, in preparation for two warm-up matches ahead of the Tests in Galle and Colombo.
But former England skipper Graham Gooch, newly installed as the team's full-time batting coach, insists they are focused on the series at hand rather than the number one ranking.
They reached the top of the table after whitewashing India 4-0 on home soil last summer, but has come under threat after they were whitewashed 3-0 themselves by Pakistan in the United Arab Emirates last month.
"Does being number one dominate team meetings now? No," Gooch explained.
"What does dominate team meetings is how we are going to beat Sri Lanka, how we are going to beat the West Indies in the next series, how we are going to beat South Africa after that.
"It was obviously a goal of the team and for English cricket to reach that position.
"Hanging on to it was always going to be the harder bit so I don't think you should always look at that bigger picture.
"You can only stay at that level if you keep winning series, keep winning individual matches. That's what we need to focus on."
The top team in the ICC rankings at the 1 April cut-off date receives prize money, while South Africa will retain second place and win $75,000 (£47,860) if they avoid defeat in both remaining Tests in New Zealand.