Geraint Jones: England and Papua New Guinea poles apart
By Justin Goulding
BBC Sport
Last updated on .From the section Cricket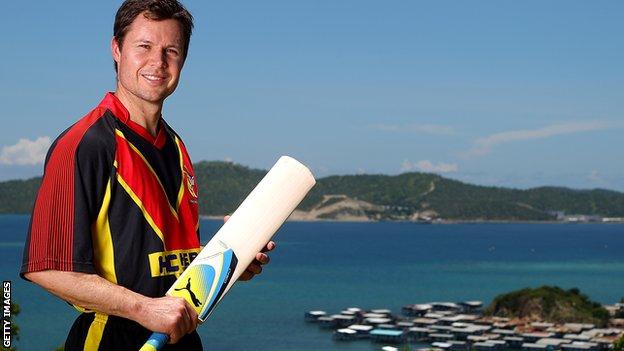 The contrast could not be more striking.
On the day that England's Test players - sporting tailor-made suits and designer shades - flew to Sri Lanka in the lap of first-class luxury, a group of slightly less privileged international cricketers were gathering on the other side of the world.
Among the Papua New Guinea squad was an England player of the not-too-distant past.
Geraint Jones, wicketkeeper in the side that won the Ashes in such thrilling fashion in 2005 (remember that leg-side catch off Steve Harmison to seal a two-run victory at Edgbaston?) is about to embark on the second phase of his international career.
He qualifies by virtue of being born in PNG and international cricket comes in the form of the World Twenty20 Qualifier, which starts on Tuesday in the United Arab Emirates.
Jones met his new team-mates for the first time only last month, but his appreciation of how life differs for those not plying their trade at cricket's top table was instant.
"Most of the guys are from a village on the coast called Hanuabada, where the houses are on stilts in the water," Jones told BBC Sport. "These houses are made from corrugated iron, so it's very, very basic.
"We went on a training camp to Canberra and we stayed with host families who put us up. We were all sharing rooms and the coach had to cover the cost of the team meals. It's nothing like playing for England."
Jones, 35, spent the first six years of his life in PNG before his Welsh parents - both teachers, who had left the UK for warmer climes - took the family to Australia, and his early memories are limited largely to birthday photo albums that show "all the local kids smiling".
"They're a happy bunch of people," he said. "Even though they've got virtually nothing, they've always got smiles on their faces."
That Jones did not pick up a cricket bat during his childhood years in PNG probably says more about cricket being ignored by the majority of the local population than the fact he was obsessed with football.
Much has changed in the intervening 30 years, not least for Jones, who moved to England as a 21-year-old. He has more than a decade's county service with Kent to his name and is the proud owner of an MBE for his Ashes exploits.
PNG now boasts a "decent" club competition, the team have been awarded one-day international status and sit a relatively lofty 19th in the International Cricket Council rankings, and the cricket board recently won a global award for introducing the sport to 130,000 schoolchildren.
The T20 Qualifier decides which two of 16 teams - including Scotland, Ireland and Afghanistan - progress to the World T20 proper in Sri Lanka later this year.
Jones made his England Test debut in the match when Brian Lara made a record 400 not out at Antigua, and went on to play 34 Tests and 49 one-day internationals for his adopted country.
Dropped midway through the 5-0 Ashes whitewash in 2006-07, he never played again.
The realisation that his England days were over helped persuade him to switch allegiance, a process that has also seen England batsman Ed Joyce resurrect his Ireland career.
"We have been talking back and forward for a couple of years," said Jones.
"Once they got through to this qualifying stage, I jumped at the opportunity," he adds, although not before he got unanimous approval from his soon-to-be team-mates.
"It was the chance to play international cricket again, and the chance to play in a World Cup, which I never got with England."
While little may be known of PNG, Jones believes they possess enough "raw" talent to upset some of the more established nations over the next fortnight.
"I had apprehensions before going over there, wondering what these guys are going to be like," he admits.
"But the opening batsmen are really destructive players. They go out there, see the ball and hit it.
"The bowlers impressed me more, with their variations. They watch games on TV, experiment on their own and learn from that.
"They're natural athletes - super quick in the field and really good catchers. That's where they are able to do really well."
Success over the next fortnight raises the prospect of PNG - and Jones - meeting defending champions England, who have been drawn against a qualifier, in the group stages of the World T20 in September.
It is a scenario that has not gone unnoticed by Jones, who confesses: "That would definitely feel strange walking out there.
"I'm sure there would be a little bit of banter flying about. But just to get to that position would be incredible."