ICC rejects claims of World Cup match-fixing investigation
Last updated on .From the section Cricket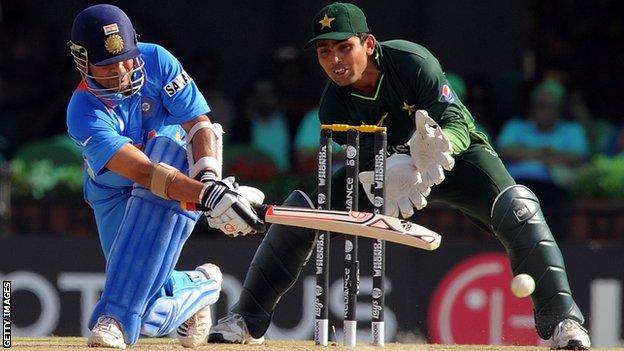 The International Cricket Council has denied claims it is investigating match-fixing during the 2011 World Cup semi-final between India and Pakistan.
Chief executive Haroon Lorgat said the article was "baseless and misleading".
"The ICC has no reason or evidence to require an investigation into this match," Lorgat insisted.
He added: "The story carried by the newspaper, in which it has claimed that the ICC is investigating the ICC Cricket World Cup 2011 semi-final between India and Pakistan, is baseless and misleading.
"It is indeed sad for spurious claims to be made which only serve to cause doubt on the semi-final of one of the most successful ICC Cricket World Cups ever."
The article made claims over the activity of illegal bookmakers in cricket and alleged that unnamed players from New Zealand were open to offers.
New Zealand Cricket chief executive David White rejected those claims calling them "irresponsible, damaging and untrue".
"We have complete confidence that the claims made are baseless and have no credibility," he said.
"The sources are not credible and the accusations are unsubstantiated making them irresponsible, damaging and untrue.
"The integrity and reputation of the game is paramount and NZC have absolute confidence that our players share these ideals.
"We have been in contact with the ICC anti-corruption unit and this is now a matter for them to follow up on."
In November 2011, former Pakistan Test cricketers Salman Butt, Mohammad Asif and Mohammad Amir all received jail sentences for their part in a spot-fixing conspiracy.
And, in January of this year, former Essex bowler Mervyn Westfield became the first English cricketer to be jailed for corruption after admitting accepting money to spot-fix in a match against Durham in September 2009.