Sri Lanka v England: Ravi Bopara wary of spin obsession
Last updated on .From the section Cricket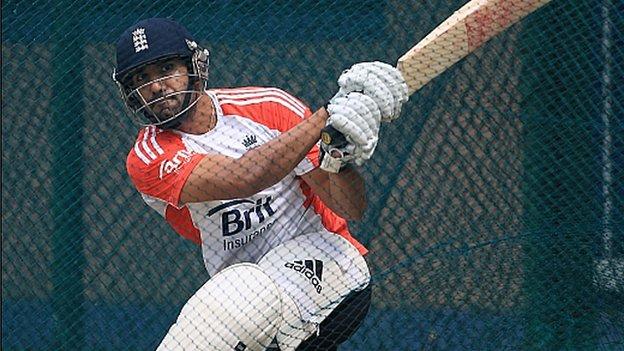 Ravi Bopara says England's batsmen must not become obsessed by their struggles against spin bowling in the forthcoming two-Test series against Sri Lanka.
But Bopara said: "It's not all about spin. In these conditions, with this humidity, the ball will swing around.
"We've seen in the past Chaminda Vaas has been very successful out here and he is a swing bowler."
Bopara, 12th man in Pakistan, is the favourite to replace Eoin Morgan in the number six slot for the first Test, starting on 26 March in Galle.
However, Essex batsman Bopara insists he has not been given any assurances over his place, with Samit Patel also a contender.
"There's no guarantees," he told BBC Sport. "It just depends on the make-up of the side and who's playing well at the time.
"We've got two warm-up games and who knows what might happen. There are more than 12 players here and everyone want to play.
"I'd love to play but the most important thing is that the team is at its strongest to win in that week. We need to win and stay at number one in the Test rankings."
Bopara made his Test debut in Sri Lanka in 2007 but could only muster 42 runs in five innings as England were beaten 1-0, left-arm seamer Vaas taking 11 wickets.
"That series didn't go well for me," he added. "And I'd love to turn things around this time and make things happen.
"This is one of the toughest places in the world. The heat plays a massive part.
"It's not just about runs. It's about how you take 20 wickets, and that is very difficult out here."
Meanwhile, it has been confirmed that The Decision Review System will be used for the two-Test series but Hot Spot will not be available, leaving the Snickometer as the only tool to decide decisions on catches.