Kevin Howells talks to Alan Richardson

By Kevin Howells
BBC Radio 5 live
Last updated on .From the section Cricket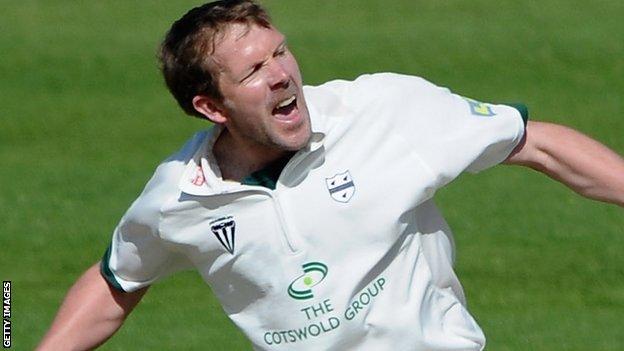 Whether he likes it or not, Alan Richardson will have to come to terms with being called a veteran but, what he should not accept, is being tagged a journeyman. He won't kick off about it, so I will.
The campaign begins here, 37 years old on 6 May this year, he enters a new season with Worcestershire hoping to have another cracking season to mirror the last one when he took 73 Championship wickets.
Before anyone reminds me, I didn't include him in my county XI last year and we will address that here and now.
There wasn't a lynch mob to greet me at New Road on my recent visit. Instead, a jovial professional cricketer enjoying every moment he can as a player.
He enjoyed reading the abuse which came my way over his being absent from the XI.
Richardson said: "I have certainly forgiven you. I did read a bit about it on the forums and the BBC website. I had a little chuckle to myself and never had any problems with it really.
"The season was my best by a mile. Fantastic. The most overs I've ever bowled (663.1) and the most number of wickets.
"To be involved for all 16 games was an experience I thoroughly enjoyed."
Richardson missed the whole of the 2006 season with an elbow injury and said that was the "lowest and loneliest" he has ever been.
Overall, two big injuries have been a real hindrance to Richardson, so he was relieved just to be getting onto the park.
"It probably got to the 13th or 14th game when I thought 'jeez I'm still going'," he added.
"It built up a momentum after the first couple of months when we got through a fair number of overs and took it from there.
"Me and Worcester have been a really good marriage. They've looked after me really well.
"All the medical and fitness staff here have a really good understanding and knowledge of the game and have helped me through that."
He describes the decision not to play him in one-day cricket due to his injury, as not being a conscious one to keep him fit and he would love to play as much cricket as possible.
Whatever decision the club's director of cricket Steve Rhodes makes this year, you can understand some reluctance to change anything when Richardson is so key to their four-day game.
"I would rather sacrifice a couple of one-day games and not miss any Championship," Richardson admits.
A different outcome to a tough decision in 2009 to leave Middlesex, who had offered him a playing and coaching role, and these special seasons wouldn't have happened.
Instead, his performances helped Worcestershire avoid relegation after the previous year helping them gain promotion.
He's on a year-by-year contract and he hopes for another 12 months on top of this one, but what challenge lies ahead this time for player and club?
Richardson said: "I think we are a good set of lads, highly skilled. If you look on paper throughout the first division you would say we are possibly the weakest side in terms of experience and the stats that we have.
"It's been a fantastic achievement [to stay up]. We just want to play as good a cricket as we can.
"The members here have watched some pretty good cricket and some pretty dire stuff as well, and they are very supportive.
"We haven't set any goals yet, but to stay up would be the first one and see where we go from there."
Richardson has spent the winter working on fitness and coaching both cricket and football at Shrewsbury School.
Before he puts on a Worcestershire shirt this season, he's been called up by the MCC to play Lancashire in the UAE at the end of the month, which he describes that as a "honour".
He is also looking forward to bowling with a pink ball under the lights for the first time.
Richardson added: "Having spoken to a couple of the guys at Notts, they say whatever happens make sure you are bowling when dusk starts to come down and lights kick in, because it tends to zip around then and quite flat during the day."
Now to the issue of what is and isn't a journeyman. In Richardson's case I don't like it and neither did he.
"I used to get a little bit annoyed by it actually," he said. "Not so much now I suppose. I have played for four different counties (by that criteria nearly every professional footballer would been known as a journeyman).
"It would have been nice to have played for just one or two. I can't complain how my career has gone. It's been fantastic.
"To have been out of the game when I was aged 23 (released by Derbyshire spending three years away from the first-class game) and to have had such a long time in county cricket has been a massive success for me."
As for the prefix of veteran, as he says of himself: "These days I have to warm up for the warm-up."