Alec Stewart column: How cricket got serious about fitness

By Alec Stewart
Former England captain and BBC Radio 5 live summariser
Last updated on .From the section Cricket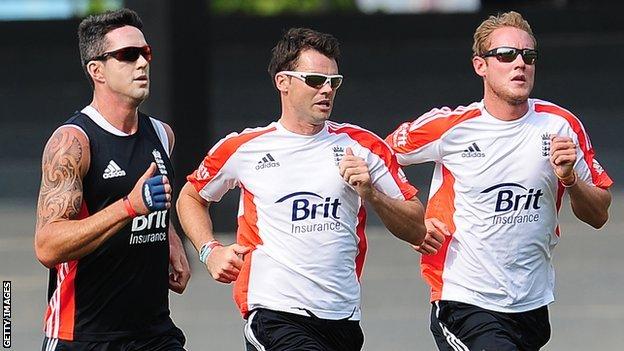 I was out and about with the Surrey team this week as they began the outdoor leg of their pre-season training in the early spring sunshine.
It's the final stage of a comprehensive programme that started at the end of last season with every player being screened and given a tailor-made fitness regime for the winter.
It couldn't be more different to my early playing days when professional cricket was a part-time job.
Back then, you would say goodbye to your team-mates on the last day of September and then meet up again on 1 April.
Some players, myself included, would go abroad and play club cricket. I had eight consecutive winters playing in Perth for a side called Midland Guildford and that was the best thing I could do because it fast-tracked my career.
Other people got jobs in the business world, some would teach or coach at schools, while some struggled to pick up paid work and would sign on the dole.
Others got creative in the quest for gainful employment and two of my Surrey team-mates, Ed Giddins and Nadeem Shahid, even tried their hand at selling Christmas trees. Unfortunately, they weren't the sharpest of businessmen and they always wondered why sales dried up in January.
Some people would take their fitness very seriously and would keep themselves in shape by playing football, squash or hockey in the winter. But others would report back in April having done next to nothing.
In those days there were no fitness coaches so you might do a quick lap of the ground, swing your arms about a bit and then go straight into the nets.
These days it is a whole new ball game and, at the end of the season, everyone is given a fitness screening to show up all the small stress-related injuries which need to be given time to heal.
Players will then have four to six weeks off before regrouping in early November for individual strength and conditioning programmes, alongside indoor cricket sessions.
The approach is highly scientific and the whole set-up is geared towards excellence.
The excuse culture which I have witnessed in the past goes out the window because nothing is left to chance.
Everything is there for you now and it is no coincidence that the England cricket team is doing as well as they have done in recent times with the more professional set-up at county level.
You only have to look at the body shapes of people today and compare them to 20 years ago to see they are now athletes.
There will be people from the old school reading this article and shaking their heads, arguing that you get fit for cricket by playing cricket. But I always say that, whatever your job, you will not do it any worse if you are fitter and stronger.
Having said that, no matter how much training you do, nothing can prepare you for the physical demands of standing in the field for six hours.
That is why pre-season games are so important to get your match-legs in place for what is a long and strenuous campaign.