Glamorgan could swap Test match for Champions Trophy games
Last updated on .From the section Cricket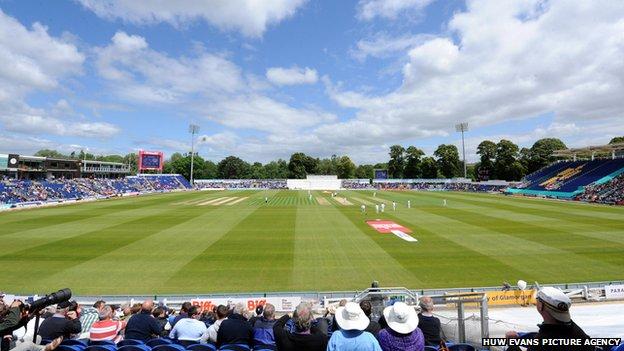 Glamorgan could have the opportunity to swap the 2013 England v New Zealand Test match for five ICC Champions Trophy games in the same year.
The games in the Champions Trophy, a 50-over competition, would include one of the semi-finals.
A club statement said discussions with the England and Wales Cricket Board (ECB) were still at an early stage.
"The opportunity to stage high-profile Champions Trophy matches in Cardiff is an exciting one," the statement added.
"It would provide a fascinating range of matches and do much to continue to raise the international standing of Wales as destination for top-class cricket."
However, the club stressed that if they staged the New Zealand Test match as currently planned, they were confident it would be both an operational and financial success.
In September 2011 the ECB announced that Glamorgan would stage a further 17 days of international cricket over the next five years - to include the New Zealand Test and an Ashes Test in 2015.
"Discussions are at an early stage and understandably, there are a number of complex matters that need to be considered and resolved prior to any final decision being made," the statement said.
"Glamorgan will not agree to a swap unless it is clearly in the interests of the club to do so."
The county successfully staged a 2009 Ashes Test but the Sri Lanka Test in 2011 failed to capture the public imagination. They county lost money on the match and were then late paying the ECB the staging fee.
Subsequently Glamorgan were stripped of the 2012 England v West Indies Test.
But since then Glamorgan have restructured their finances in a bid to reduce their debt and secure the club's future.
The club's lenders, which include Allied Irish Bank, Cardiff Council and former chairman Paul Russell, have agreed to a loan restructure.
In addition, Glamorgan managed to raise £1.3m from a group of nine private investors.
This year Glamorgan will host England's one-day international against South Africa on Friday, 24 August and also the Twenty20 Finals Day on Saturday, 25 August.
The Champions Trophy, which is taking place instead of a proposed ICC World Test Championship, was last staged in 2009.