Isa Guha column: 'I leave knowing I can be proud of my achievements'
Last updated on .From the section Cricket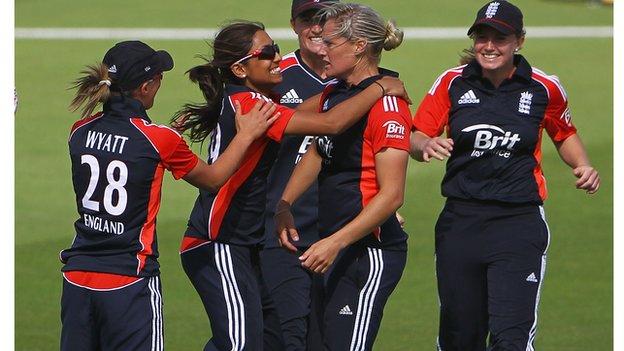 Retiring from international cricket was without doubt one of the toughest decisions I've ever had to make, but taking everything into account over recent times, it really was the right time.
Over the winter I reached a point where my fitness was the best it had ever been, with the view of giving myself every opportunity of making the World Cup squad in 2013.
To help this process I opted to spend six weeks in India off my own back, and budget, with the aim of advancing my bowling technique while in tough conditions. This period provided intense training at the Global Cricket School, which left me feeling in prime shape ahead of New Zealand.
Overall the England's women's tour went extremely well. I didn't play a major role and this is testament as to how hard everyone else worked to prevent me from securing a place in the side.
Usually, my fighting nature would have told me to go back and work even harder but on this occasion I felt that going forward the amount of training required to keep fit and push for a place in the squad was simply a bridge too far. When I considered my commitments to a part-time PhD and other income streams, I had to face the facts.
Needless to say that telling the England captain and the girls was extremely hard and there were a lot of tears involved. I didn't want to take anything away from the tour but they were all incredibly supportive and you can imagine we celebrated after the final game that night!
I leave knowing that I can be proud of my achievements, which alongside the team's successes has made my time with England even more special.
Naturally, any time that our national team beats Australia is pleasing but the first time we beat them in 10 years at Stratford in 2005 was a day I'll never forget.
That led to the first Ashes win in 42 years, which gave us all confidence moving forwards and culminated in 2009 where we won the one-day World Cup, Twenty20 World Cup, whitewashed the Aussies and retained the Ashes. This set of achievements made us the most successful team in England.
The squad is now the strongest it has ever been, and I feel privileged to have played alongside some extraordinary cricketers.
It is a testament to the system in place that with plenty of new rising stars in the fold, I have every faith that this England's women's side will continue to dominate in the future.
Thanks to everyone for your support over the last decade.