Sachin Tendulkar was a superstar long before his hundredth ton

By Alison Mitchell
BBC Radio 5 live
Last updated on .From the section Cricket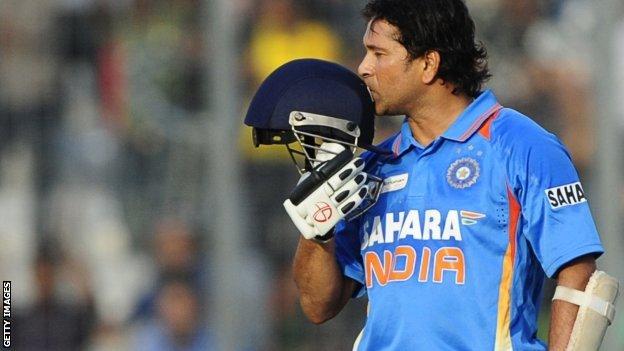 There was a telling remark from Sachin Tendulkar after he reached his extraordinary landmark of a 100 international centuries.
"In the restaurant, room service, everyone was talking about the 100th hundred. Nobody talked about my 99 previous hundreds."
It had been an agonising wait, not only for the billion or so Tendulkar fans, but also, as he revealed, for the man himself.
Since scoring his 99th international ton, he had gone over a year without scoring the next - costing him, he joked, around 50kg in weight.
Cricket loves a stat and a record - and this is a remarkable one - but Tendulkar's legacy was never going to measured by whether he reached his 100th international hundred.
His 15,000 Test runs, his 51 Test and 48 one-day international centuries (before Friday's knock) were already enough to confirm him as the pre-eminent batsman of our time - possibly of all time.
It could be said that had he been forced to finish his career on 99 hundreds it would only have added to the legend in the same way that Don Bradman retired with a Test average of 99.94.
But by clocking up the long awaited landmark, his status in the game as master craftsman and sporting icon has been underlined, put in bold, and written in 72-point type.
It is a record likely never to be broken.
In the last Ashes series, Alastair Cook became the second youngest batsman after Tendulkar to score 5,000 Test runs, but while Cook debuted at 21 and will break the England record of 28 international hundreds, it is difficult to see, with the rigours of the modern game, how a century of centuries can be reserved for anyone except the little master from Mumbai.
After him, Ricky Ponting is second on the list with the Australian record of 70, then comes Jacques Kallis with a 'mere' 59.
Everyone who loves cricket will have a favourite memory of Sachin Tendulkar. I was 12 years old when I approached him shyly and asked for his autograph at the County Ground, Northampton, soon after he had started playing for Yorkshire.
Nearly 20 years later, I was interviewing him on the outfield at the World Cup in Bangalore after he had scored his 98th international hundred. He was unrushed and gracious with his time, indicating he would have talked for longer when a media officer motioned to wrap things up.
Of all his hundreds though, the century against England in Chennai in the rearranged Test of 2008 must be one of the most memorable, given the circumstances.
The backdrop was the aftermath of the Mumbai attacks, the most heinous terror attacks India had seen. England had returned to the country after the abandonment of the ODI series and set India the fourth highest total to win in Test history.
After an onslaught from Sehwag got them on the way, Tendulkar proceeded to steer India towards their target in serene fashion and the crowd in the stadium started to swell.
On 99, with his country needing four more runs for a stirring victory, Tendulkar, a Mumbaiker himself, swept to the fine leg boundary. The poignancy of that one moment - the century, the victory, the surge of joy from the stands in the face of such dark times - will live long in the memory of all those who witnessed it.
If ever a man had the power to help heal a nation's pain, it was he.
Tendulkar immediately dedicated the hundred to all those affected by the Mumbai attacks, acknowledging that while winning a cricket match would be of little comfort to those who had lost loved ones, he and his team-mates would do everything they could to give the people of India something to smile about.
And boy, how we have smiled at Tendulkar.