Graeme Swann: being England's top spinner not an issue
Last updated on .From the section Cricket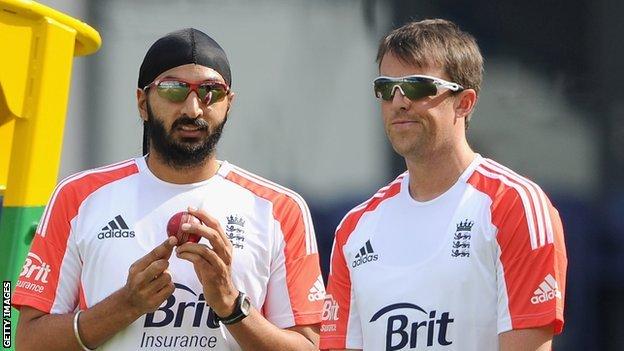 Graeme Swann says it is not important for him to be the number one spinner in the England side and that only someone "fairly sad" would worry about how other players are performing.
But Swann said: "I think it's important for me to be playing for England.
"But you don't get a little label to hang around your shoulder saying 'Number One Spinner'."
Asked whether the battle to be England's leading spinner is on his mind, Swann replied: "No, it's not. I'm afraid that's the press again. You guys need something to write about so I'll let you decide.
"That's just a debate in the press box when it's raining."
Swann admitted that he would not "take it on the chin" if he misses out next summer.
"You don't do that," he said. "You always want to be in the team. But you don't get given a tag saying 'I am Number One Spinner'.
"Of course I'll be hoping to be the man in possession but, if you spend your whole life just looking over your shoulder, I think you're a fairly sad individual.
"I think my record speaks for itself over the last couple of years. If I'm not performing particularly well at the start of the summer and don't play then that's my own fault and I'll need to improve my performances.
"It's not up to me to decide if I'm the number one spinner or not."
Swann said he viewed Panesar as a partner rather than a rival, adding: "We need two spinners over here - there's not a great deal of debate about that and it's great Monty is bowling so well and has done since he came back into the team.
"We've worked well together and I always look forward to bowling with him."