Andy Flower tells England to respect umpires & opponents
Last updated on .From the section Cricket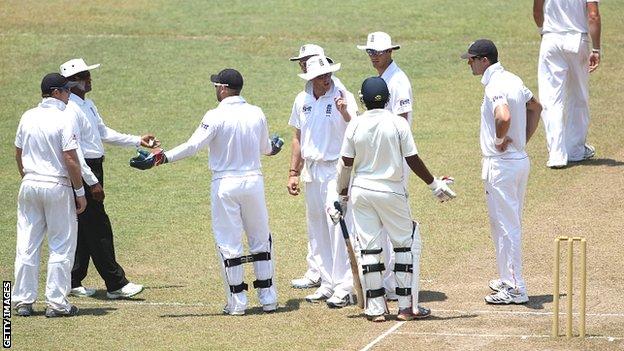 England coach Andy Flower has reminded his players to respect umpires and the opposition regardless of provocation.
Graeme Swann called Sri Lanka Board XI batsman Dilruwan Perera a "cheat" after standing his ground after a disputed catch in
"We should always respect the umpire's decision and get on with the game thereafter," Flower told BBC Sport.
"Respect the opposition, respect the officials and respect the country you're playing - that's your job."
England's win was marred by animated scenes in the middle after Perera questioned an Andrew Strauss catch and refused to walk.
The tourists were furious that Perera was allowed to continue his innings.
"It was very difficult to take because it was so blatantly out," said Swann.
"Jimmy Anderson wasn't very happy because he'd had a wicket robbed off him, Straussy was miffed that his integrity was questioned and I wanted to kill the batsman because he was cheating.
"He was stood right next to me with a smug look on his face.
"The umpire was unsighted but the batsman stood there knowing 100% that he was out and chose to cheat in my view.
"We live in an age where cheating is accepted. In a Test match, it wouldn't have been a problem because of DRS [Decision Review System]."
England continue their preparations for the Test series with a three-day match against a Sri Lanka Cricket Development XI in Colombo on Tuesday.
There is a doubt over the fitness of Stuart Broad, who was withdrawn from the Board XI game after tripping over a boundary rope minutes before play was due to start.
The paceman sprained his left ankle and was unable to bowl for four days.
"He'll have a bowl today," said Flower. "We'll see how his foot reacts to that this evening and tomorrow morning, and then probably make a final decision [on Tuesday morning] on whether he plays or not.
"We will be making a few changes but they won't be changes just to give everyone a go - it will be with the first Test in mind."
England suffered a 3-0 Test whitewash against Pakistan but bounced back to take the one-day series 4-0 and the Twenty20 series 2-1.