Mohammad Amir comeback would be 'great' - Rahul Dravid
Last updated on .From the section Cricket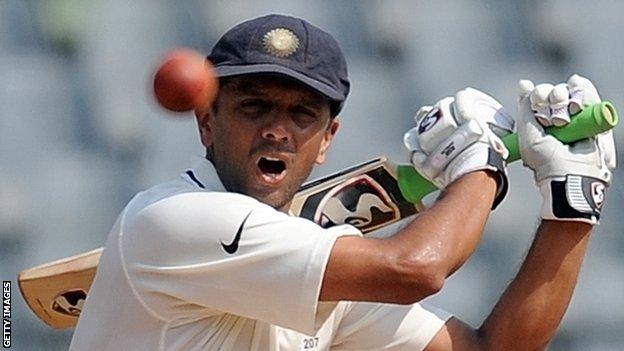 Cricket legend Rahul Dravid says it would be "great" if Pakistan paceman Mohammad Amir could return to cricket after his five-year ban is completed.
The former India batsman, now retired from international cricket, believes his comeback would be a "challenge".
Dravid told the BBC: "He's a superb player and when he's served his ban, I'd hope he'd be able to come back,"
But he added: "It's not easy to stay away from the game for so long, to not play it, and be able to come back."
Amir, banned for his part in a spot-fixing scandal, has blamed ex-captain Salman Butt for getting him involved.
The 19-year-old left-arm seamer was released from prison in February after serving half of his six month sentence for his part in the affair.
Butt, bowler Mohammad Asif and agent Mazhar Majeed remain in prison for plotting no-balls against England in 2010.
Dravid said he was "disappointed" at what had happened but hoped Amir could, in time, rediscover the form that made him one of the world's most feared bowlers.
"It's been disappointing as [I am] someone who loves the game, and loves watching young talent come through," said Dravid, the second highest run scorer in Test history.
"It was difficult on everybody across the world who saw such a young talent, and unfortunately he made a few mistakes.
"We all want him to come back at some stage and I don't know whether that's... it's going to be a challenge.
"I hope he can do it; it would be great if he can."
In an interview with former England cricket captain Michael Atherton, Amir said he thought of Butt as like a brother, and that he had been "manipulated" into bowling two intentional no-balls at Lord's.
Amir, 19, said: "He took advantage of our friendship. He should have helped me instead of involving me in all this. I was manipulated."
However, Butt's father Zulfiqar accused the disgraced bowler of wrongly pinning all of the blame on his son.
He said: "Amir, on record, said before the ICC tribunal that Butt did not ask him to bowl no-balls, and then before the UK court last year, he said the same, so was he lying then or now?
"Amir's latest interview suggests that he wants to revive his career and that's why he is accusing my son."
Hear the full interview with Rahul Dravid - his first since announcing his retirement - on Phil Tufnell's cricket programme on Thursday, BBC 5live sport, from 19.30GMT.