Captain Mark Wallace is positive on Glamorgan success in 2012
Last updated on .From the section Cricket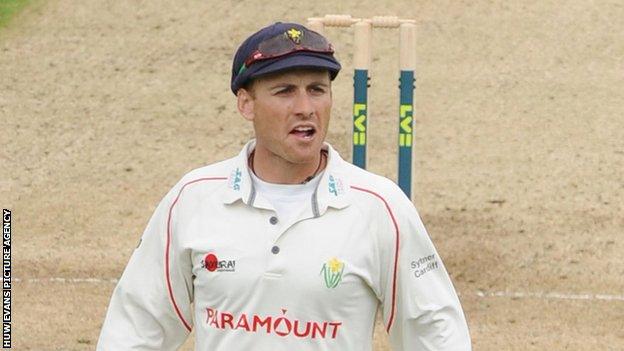 New captain Mark Wallace believes a fitter, mentally stronger Glamorgan have the potential to deliver success in the 2012 season.
It is eight years since the county won a trophy - the one-day league in 2004.
But Wallace is confident the wilderness years could be at an end.
"Going into this season it is a positive group, who are focussed on what they want to achieve, and that achievement is winning games for Glamorgan," said Wallace.
With Matthew Mott, whose role has changed from coach to head of elite performance, Wallace has worked hard to improve Glamorgan's physical and mental approach for campaign.
The squad have recently returned from five days fitness training in La Manga in Spain and during the winter Enzo Calzaghe, father and trainer of former world boxing champion Joe, has put Glamorgan through their paces.
"We have been preparing for this season since November," he said.
"We are under no illusions we under-performed last year and for the quality of side... we under-performed in all competitions.
"We have been working this hard to put things right.
"We are just trying to change a lot of the mentalities of the group.
"We want to have players who are genuinely ambitious to play for England, who are ambitious to be winning trophies at this club.
"We have got a very focussed group now."
In 2011 Glamorgan had a fairly modest season winning only 14 of their 38 completed games, and finishing below halfway in the table in all three competitions.
Wallace was part of the last two trophy-winning Glamorgan sides in 2002 and 2004 and he admits further success has been too long in coming.
"I'd take any trophy you offered me at the moment," he said.
"It [winning a trophy] has been a long time. I played in the last two trophy-winning sides and they are some of the best memories as a cricketer.
"I've got two medals, which I'm very proud of and there are certainly guys in our squad who are focussed in winning medals."
After their five pre-season friendlies and a three-day match against Oxford MCCU on 31 March, the season begins with a County Championship clash against Leicestershire at Grace Road starting on 5 April.