Ricky Ponting not playing county cricket this season
Last updated on .From the section Cricket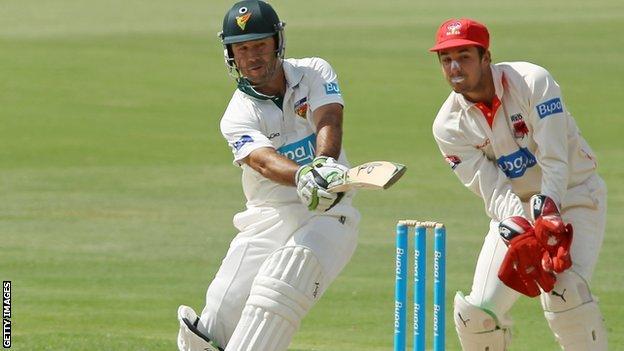 Former Australia captain Ricky Ponting will not be playing county cricket in the coming season.
But the Tasmanian said: "It [county cricket] doesn't really fit into what I'm looking at doing.
"I'm looking forward to having more time with the Tasmanian Tigers and spending time with the family so county cricket is out of the question."
The right-hander, scorer of 13,200 Test runs, resigned as Australia captain in March 2011 and said in February of this year that he does not expect to play international limited-overs cricket again.
With Australia only playing limited-overs cricket between their current tour of West Indies and the three-Test series against South Africa, Ponting had said a spell with a county would help him prepare for the visit of the Proteas, but conceded that the prospect was unlikely.
And, speaking in Melbourne on Friday, he added: "I've got to look at what my best preparation is, post the West Indies, and that will probably be to have a couple of months off.
"It's been a hard 12 months for me personally and around my cricket.
"With things not going as smoothly as I wanted at the start of the year, I had to train harder and work harder on my game and think more about my game than ever before.
"It's taken its toll a little bit, so I need to have a chance to refresh and recharge my batteries and get a solid pre-season under my belt before the Australian summer."
Somerset director of cricket Brian Rose had indicated they would welcome the chance for Ponting to fill their vacant overseas player slot for the second half of the summer, but admitted they had made no contact with the three-time World Cup winner.
"If Ricky Ponting is a possibility then we are flattered that we have been connected with his name," Rose told BBC Somerset.
"But at the moment talks [with Ponting] have not been initiated and we are still looking at all options."
In a run that included his resignation as captain, Ponting went 17 Tests without scoring a century, leading to calls for him to be dropped.
But he returned to form in the 4-0 whitewash of India, scoring 544 runs at an average of 108.80, boosting his hopes of touring England for the 2013 Ashes.