Sean Terry ready to take Hampshire opportunity
Last updated on .From the section Cricket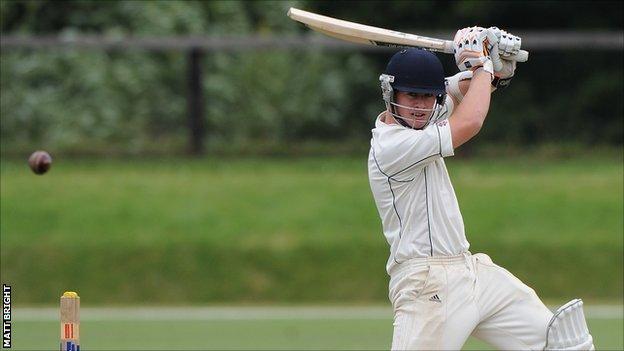 Young batsman Sean Terry is confident he will be ready when the opportunity comes to break into Hampshire's first team this season.
Terry, 20, the son of former Hampshire player and cricket manager Paul, is on a two-year development contract with the county.
Terry told BBC Radio Solent: "With the squad how it is there's always going to be people fall down or run out of form.
"I'm backing myself to take that opportunity when it comes."
Speaking on the county's pre-season tour of Barbados, Terry said he was already benefiting from being in a professional environment.
"Being around the guys, being one of the squad, getting into the nets and facing bowlers like Kabi [Kabir Ali], Thommo [James Tomlinson] and Griff [David Griffin] is only going to make me better.
"The intention is to score a few runs early in the twos [second team] and the way the squad is made up, I'd love to get in the first team as early as possible and make my mark."
Terry, who after being brought up in Perth has represented Western Australia at junior levels, said he is a very different batsman to his father, who scored more than 16,000 runs for Hampshire in a 19-year career before having a six-year spell as the club's manager from 2002 to 2008.
"We moved to Perth when I was little and I've basically grown up there, it's a great place to learn your trade in cricket terms because they try to bring you up as a tough, tough cricketer.
"I like to play positive cricket, which is a bit different to Dad who used to block it and bore a few people," he joked.