Rahul Dravid says future of Test cricket depends on schedule
Last updated on .From the section Cricket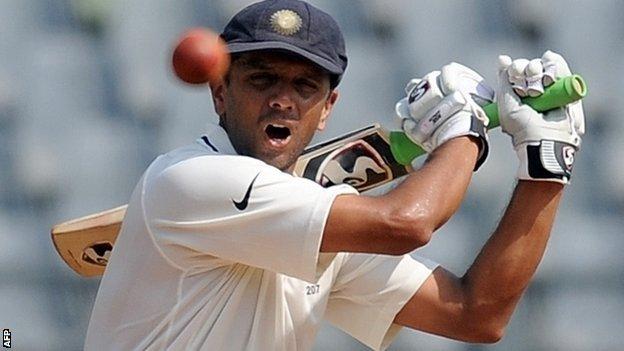 Rahul Dravid believes the future of Test cricket may be dependent on its scheduling in a cramped calendar.
"If you play enough Test cricket, I think it will survive," the India batting legend told BBC Radio 5 live, in his first interview since retiring from international cricket this month.
"Twenty20 has put a strain on the calendar, so it's just a question of how the administrators manage it.
"The challenge will be to ensure every team plays enough Tests in the year."
Dravid, 39, is second on the list of all-time leading Test run-scorers with 13,288, behind former team-mate Sachin Tendulkar, who currently has 15,470.
He is also only one of six players to have scored more than 10,000 one-day international runs.
Dravid continued: "I think the ideal scenario would be for young players not to have to make choice between playing all three forms of the game.
"I think they should be able to play all three forms, as long as they stay fit and as long as international boards are willing to schedule enough Tests, to give them the opportunity.
"We've seen recent examples of players who have shown you can play Test and T20 cricket."
Meanwhile, Dravid paid tribute to Tendulkar, who, in addition to being the leading run-scorer in Test and one-day internationals, became the first player to score 100 international centuries, last week.
"His desire is what has kept him going," said Dravid, who shared a record 19 Test century partnerships with Tendulkar.
"He has not been dimmed by years of travel and the vagaries of international cricket. Sachin has had the desire, talent, ability and temperament to keep going.
"It was great to have the best seat in the house with him. You could see excellence at work and see his talent come through."