Essex's Reece Topley sets sights on future England call
Last updated on .From the section Cricket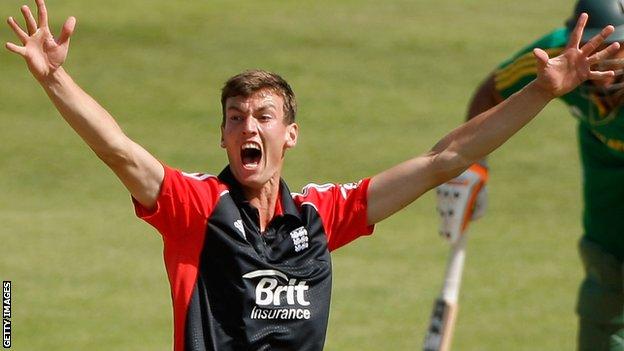 Essex pace bowler Reece Topley believes he has the right attributes to be an England player of the future.
The 18-year-old left-armer will be part of the England under-19 squad taking part in a four-nation one-day tournament in Australia next month.
"I'm on the ladder towards the England side, but I am fully aware I'm on the bottom rung of that ladder.
"It's just time and effort and hard work and whether I want it enough - and I think I do," he told BBC Essex.
"It's a long journey to get to where I want to be but with the effort and determination that I think I have - I've been working really hard over this winter and I have really come on as a cricketer - so I don't think I couldn't play at the top level."
Topley, who stands 6ft 7ins tall, first made headlines as a 15-year-old when floored by a Kevin Pietersen shot during a practice session.
But he has taken 34 wickets in nine first-class appearances at a cost of just 23 runs each and is hoping to use the forthcoming trip down under, where England's youngsters will also take on New Zealand and India, to secure a return to Australia for the Under-19 World Cup in August.
On his return, Topley will be staking a claim for a place in Essex's first team, having picked up 14 wickets in his opening three County Championship matches last season.
"I always felt that I could always contribute at this level because I've been playing second-team cricket since I was 14, 15 and I didn't look out of place there," he said.
"[Making] the step-up, you've just got to be more disciplined - but I was surprised I was leading wicket-taker after the first three matches."
So determined is Topley to succeed that he left school to pursue his goal of being a full-time professional cricketer.
And he is eager to establish himself in Essex's limited overs side this summer, as well as the Championship line-up.
"One-day cricket is an area where I really feel I could develop because with the attraction of the IPL you've got guys around the county circuit who are really pushing themselves in that form of the game, so I think one-day cricket's just getting tougher and tougher because of the money surrounding it," he added.