Alec Stewart column: Sri Lanka humidity will test England

By Alec Stewart
Former England captain and BBC Radio 5 live summariser
Last updated on .From the section Cricket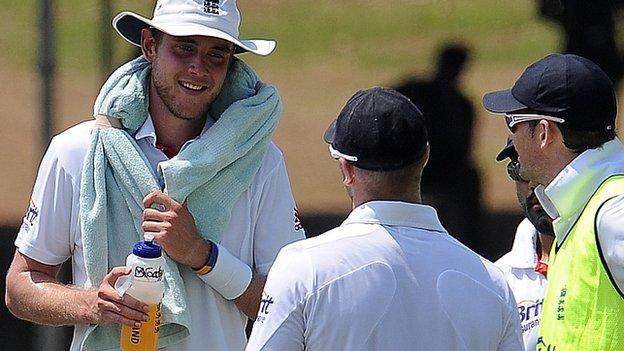 Sri Lanka is the toughest place in the world to play cricket. The heat and humidity, whether you are batting, bowling or fielding, takes a lot of getting used to.
The bowlers' shirts are wet through from sweat after bowling a spell and, if you're batting, you're changing your gloves every 20 minutes.
There is great attention to detail now in making sure the players take the right fluids on board.
They will be weighed at the start of the day's play and at the end of every session and, whatever weight has been lost, they will have to pile on the fluids to replace it.
At times, a player can lose up to three kilos in a session just from sweat. It's easy to say a player needs to be fit, but you have to keep hydrated and not take chances with your health.
By going out there and having two warm-up games, England have certainly given themselves the opportunity to acclimatise.
The quicker bowlers will bowl shorter spells and more responsibility will be placed on the shoulders of the spinners, Graeme Swann, Monty Panesar and Samit Patel, if he plays.
But, at the end of the day, adapting to alien conditions is all part and parcel of playing Test cricket, and it's no different to the Sri Lankans coming over to play in England in May, when the freezing cold conditions are foreign to them.
Tours are not only a test of your cricketing ability but also your ability to deal with the climate and surroundings.
Obviously, the conditions will be unfamiliar to England, but the process remains the same - they need to score enough runs to win the game.
Big first-innings runs are important because the pitches turn as the game goes on. You have to cash in when the pitch is at its best early in the game.
I have great memories of playing in Sri Lanka, especially the winter of 2000-01 when we won the Test series in Pakistan and came back from 1-0 down to win in Sri Lanka. It was as a good an England performance as I was involved in.
Back then, seamers Darren Gough, Andy Caddick and Craig White were outstanding because they made great use of the new ball, then came back later on and varied their pace to great effect.
Added to this were the performances of the spinners, Robert Croft and Ashley Giles, who worked very well together.
White also scored valuable runs for us and England may be tempted to include Tim Bresnan to give them that five-man attack. If not, Ravi Bopara or Patel will have to bowl plenty of overs to keep the front-line bowlers fresh.
Andrew Strauss's side were thoroughly outplayed by Pakistan in the UAE, but I don't see that being the case in Sri Lanka.
England's batsmen won't be up against spinners of the calibre of Saeed Ajmal and Abdur Rehman, so they have a great chance.
But it will not be easy. In Mahela Jayawardene and Kumar Sangakkara, Sri Lanka have two world-class batsmen who can score huge runs.