Kevin Howells talks to Andrew Gale

By Kevin Howells
BBC Radio 5 live
Last updated on .From the section Cricket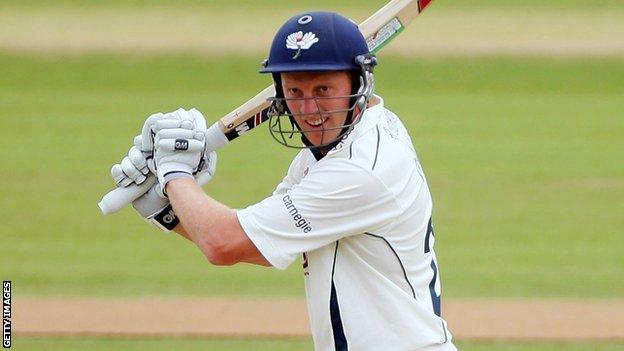 Yorkshire captain Andrew Gale is determined to make their pre-season trip to Barbados count in a year in which chairman Colin Graves has demanded instant promotion back to the County Championship's top flight.
Some of the club's long-established coaches have been replaced with former Australia international Jason Gillespie and ex-Kent coach Paul Farbrace, while Martyn Moxon remains as director of cricket.
Gale, 28, admits the club's relegation from Division One and the subsequent fallout took its toll on him as skipper.
"You do reflect more when you haven't won games and things aren't going so well," he said.
"I sat down for two weeks on holiday at the end of the season thinking, 'what could I have done better?' I took it personally that we went down and it has taken a while for me to shake that off.
"I can't take all the blame but I am responsible for some of it. You do reflect in certain situations, 'could I have done things differently'. I think I have got over that now and I'm in a better place for that definitely."
So what needs to change? "We need to be more ruthless," says Gale. "Especially when we get our noses in front.
"We need to close games out, execute our plans in one-day games better and improve our fitness levels."
That is a subject Gale has spoken about before so I was surprised that remained an issue. He continued: "I felt we were a little bit jaded at the start of last season. So we have looked at our workloads."
The idea of jetting off to the Caribbean sounds attractive but Gale is determined that sun, sea and sand is far from their minds.
"I felt that when I came back at the start of the season from being with the Lions we [Yorkshire] were a bit undercooked with our bowling outside," he added. "The way the matches were set up in Barbados it didn't help the situation. They played a couple of two-day games and they'd bowled a side out by mid-afternoon.
"We've ensured that when we go out there this time no matter what happens the boys will be doing full days in the field. So when we come back and maybe on 5 April we find ourselves in the dirt against Kent and we have to do a full day, the lads can sustain that."
But what of new coach Gillespie? Well his good natured persona which won him over with many England and Yorkshire supporters in his playing days appears to have been transferred to the new role, according to Gale.
"He's relaxed. He's different from what we've had before. Martyn [Moxon] is really organised in what he does. Dizzy is the total opposite. So I'm hoping they will bond really well as a coaching team. He likes to keep things simple. He's got a winning mentality having played in one of the best sides the world has ever seen. So he knows how to win matches so that positive attitude will rub off on some of our lads."
To compound last year's misery of relegation, Gale also suffered a broken arm in August from a ball which struck him in the nets. At the time he was Yorkshire's second-highest run scorer with a total of 769 at an average of 40.47 in the four-day game.
The timing of the injury was a set-back for both team and individual who does not seem to be as highly regarded by England as once he was.
Twelve months ago he was with the Lions and being trumpeted all round for his skills as a leader as well as player. His name doesn't seem to get mentioned now.
Is he worried? "No it's a difficult time to get in the England set-up. I think there are so many good performers around. The door has been a little bit shut for batting spots. All I can do is get my head down and be successful for Yorkshire and stack those runs up. Hopefully if someone drops out of form I can be the next man in line."
And to end on a call to his men and supporters in the full knowledge things will not just fall into place, Gale added: "Yorkshire don't deserve to be in Division Two.
"It's not where we want to be. We see ourselves as one of the biggest teams in county cricket. To be in the second division is not good enough so we will be putting our all in this year to get back into that first division. It's where I believe we belong."