Kevin Pietersen wants match-fixers to be 'finished' in cricket
Last updated on .From the section Cricket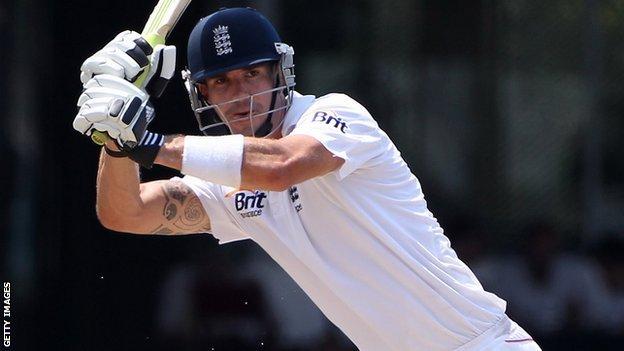 England's Kevin Pietersen has called on anybody who gets caught being involved in match-fixing to be "finished".
"Match-fixing for me is an absolute no go," said Pietersen.
"A lot of people fell out of love with [cricket] because of what a few guys had done. Anybody who gets caught needs to be finished."
On Thursday, former India captain Rahul Dravid told the BBC that Amir, who was sent to prison for match-fixing, should be allowed to resume his international career at the end of his five-year ban.
But Pietersen says Amir's actions were "inexcusable" and "anybody who gets caught needs to be finished".
"I love the game of cricket so much and to play in that fixture, to see what those guys did for a little amount of money, is inexcusable in my words."
Amir, who was banned from cricket for five years in February 2011, blamed Butt for leading him into the spot-fixing scandal.
"It's tough for me to say as I don't know what happened in that [Pakistan] dressing room," said Pietersen.
"But they've been caught and they should serve their time in a very big way because the game of cricket that we all love was dented."
England play Sri Lanka in a two-match Test series which starts on 26 March and Pietersen is preparing for a gruelling time as England try to maintain their number one Test ranking slot.
Pietersen has emerged from a testing time at the crease last year and backed out-of-form Ian Bell to rediscover his form.
Bell has not scored a half century in his last 17 innings and failed in both warm-up matches.
Pietersen said: "It has happened to every single person who has played the game and it is happening to him at the moment.
"We know he's a world-class player as you don't average 120 like he did last year and become a bad player overnight.
"You've just got to wait for that opportunity that comes, like it did for me in Dubai, where I got no runs in the Tests and all of a sudden I turned up [for the one-day matches] and got a hundred in Dubai and then another hundred."
Meanwhile, Sri Lanka have announced a 14-man squad for the series.
It originally included Angelo Mathews but the vice-captain has since been ruled out of first Test with a calf injury, meaning Chamara Silva - who made 163 against England in a warm-up match - comes in.