Sri Lanka v England: Touring fans struck by dramatic ticket price rise
Last updated on .From the section Cricket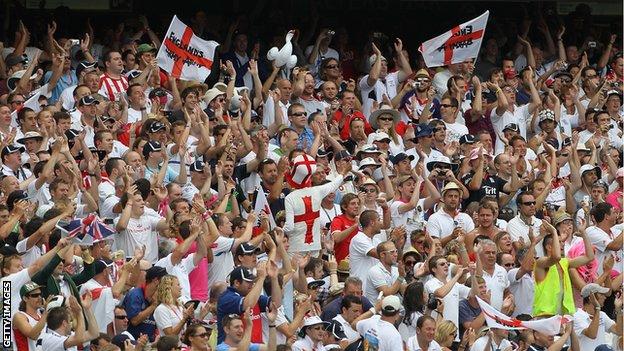 England supporters are being forced to buy tickets for the opening Test against Sri Lanka which cost 10 times more than the recent Australia series.
Entry for Sri Lanka's September Test against Australia cost £2.50, while most tickets will go for £25 on Monday.
Asanga Seneviratne, tour organising committee chair, told the BBC: "The majority of tickets will cost 5,000 rupees (£25), with some at 1,000 (£5)."
Traditionally, some fans have watched games in Galle from a nearby fort.
"Obviously we would like them [the supporters] in the ground," bowler James Anderson told BBC Sport.
"But I have played here before when the grounds been full and there have still been people on the walls of the fort and you still get the same support."
Approximately 5,000 English supporters have travelled to Sri Lanka for the two-game Test series. Complaints have appeared about a lack of information about where tickets can be purchased and at what cost.
Mr Seneviratne said the new pricing structure had been introduced since he took office in January as a means to make Sri Lankan Test cricket more profitable.
He also refuted claims that the cheaper 1,000 rupee sections on the grass banks in the stadium would be opened exclusively to locals.
The governing body ran up debts improving stadia for the ICC Cricket World Cup, which they co-hosted with India and Bangladesh last year and only settled a pay dispute with cricketers from the tournament a fortnight ago.
Sri Lanka Cricket Board secretary Nishantha Ranatunga had earlier stated that all supporters, both foreign and local, would pay 5,000 Sri Lankan rupees for general admission and 7,500 rupees for corporate boxes. The BBC understands this plan has since been abandoned.
Ranatunga later added: "There is a substantial increase from previous tours and the World Cup. We need to develop the game of cricket in Sri Lanka. Whenever there is an opportunity and a demand for tickets it is our policy to put prices up."
England captain Andrew Strauss said: "Clearly we want to have as many fans as possible in the ground and we know the Barmy Army always travels and supports us wherever we go in the world.
"The more of them that are in the ground supporting us and watching some good quality Test cricket the better, not just for us but also the game as a whole."