Sri Lanka v England: Jonathan Agnew column

By Jonathan Agnew
BBC cricket correspondent in Galle
Last updated on .From the section Cricket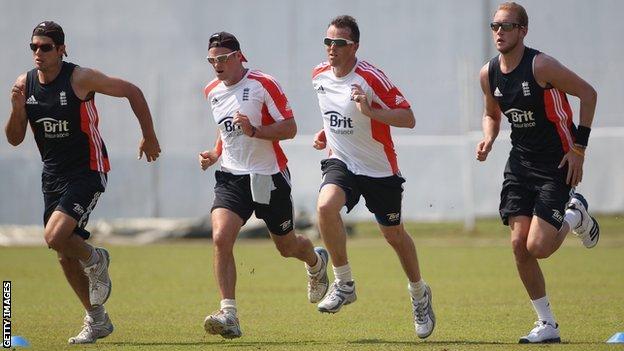 It's going to be really interesting to see how England respond to the 3-0 defeat by Pakistan in the United Arab Emirates, particularly the mindset of the batsmen.
Andrew Strauss has talked about "making amends" for that tour and it's good for them to accept that they didn't play very well.
They shouldn't get too obsessed about how they play spin bowling, but they need to demonstrate here in Sri Lanka that they have learned from that experience.
Strauss is one of the batsmen most in need of runs. There is more and more talk about his run of form, especially as he has not scored a Test hundred since the first Ashes Test in Brisbane in November 2010.
It's always a concern when the captain has to think about his form. It can be undermining, so he needs a good start to lay any talk about his position to rest, particularly after the success Alastair Cook had in the one-dayers against Pakistan.
Looking back into recent history, there are any number of examples of the Test captain feeling the one-day captain breathing down his neck. Nasser Hussain and Michael Vaughan, Steve Waugh and Ricky Ponting - that is why the Test captain is so keen to hang on to the one-day job. They know that by giving it up they are creating a successor-in-waiting.
Fortunately, Strauss is a very calm, mature, level-headed individual, and his position is not under threat, but he will want to get some runs here.
Before that, he will have to decide on the make-up of his team, the 'formation' if you will.
It doesn't look a great pitch. It has been repaired and watered quite a lot. Now the sun has got on it, it has dried out and it will spin at some stage.
England have got lots of options, especially now they are saying that Stuart Broad is fit to play. It is incredibly hot and humid, so if they are ever going to play five bowlers it could be here in Sri Lanka - the last thing you would want is for someone to be injured and leave you with three bowlers in these conditions.
However, having said that, I doubt England will change their balance. They like playing four bowlers, with Matt Prior batting at seven.
That still leaves the question of who would replace Eoin Morgan, the only batting casualty of the tour of the UAE, at number six - Ravi Bopara or Samit Patel?
Some may see Bopara's cause as being weakened by the injury that will prevent him from bowling, but I do not think he would have bowled much anyway, and his overs can be sent down by Jonathan Trott and Kevin Pietersen.
He does though, have some bad memories of playing at Galle, having made possibly the worst pair in Test cricket in what was only his third Test. In the second innings of that game, he was run out by slip.
Patel would provide a third spinning option, but Bopara will probably get the nod because they do tend to use a pecking order and they feel that the Essex man is next in line.