James Anderson: England 'not involved' in ball tampering
Last updated on .From the section Cricket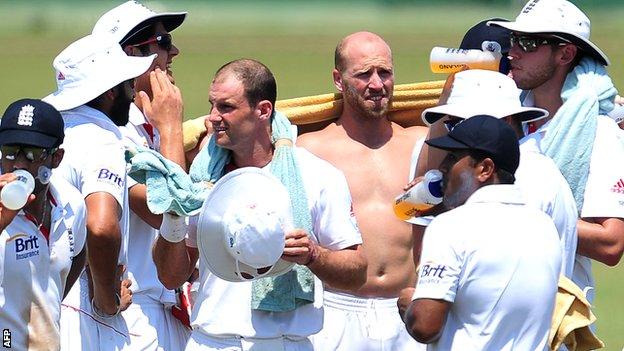 Bowler James Anderson insists England did not tamper with the ball in a tour game in Sri Lanka, after a match referee complained about its condition.
"We can safely say we don't get involved in any of that, so in no way was it a distraction," said Anderson.
Referee Manoj Mendis remarked on the ball's "roughness" in his report on a match against a Sri Lankan development XI in Colombo, which England won.
"In my report I stressed it was only suspicion, not evidence," said Mendis.
He also told The Times: "It was just my opinion. I did not see any bowler do anything, but there was suspicion based purely on the condition of the ball.
"There was a bit of dryness and, I'd say, roughness on one side.
"I brought it to the attention of [England tour manager] Phil Neale, that the ball may have been altered a bit."
The England and Wales Cricket Board declined to comment on the contents of the match report, although it is thought that officials believe there is no substance to the claim.
England vice-captain Alastair Cook, who was not playing in the match, was involved in discussions with Mendis and explained that the ball's condition was due to the dry nature of the ground.
Mendis added: "I tried to watch more closely afterwards and did not see anything.
"Alastair Cook is a gentleman, so we concluded that it was fine. But I also have to do my job."
The claims emerged as Sri Lanka finished the opening day of the first Test in Galle against England on 289-8, with captain Mahela Jayawardene unbeaten on 168.