Sri Lanka v England: Anderson can beat Botham record - Vaughan
Last updated on .From the section Cricket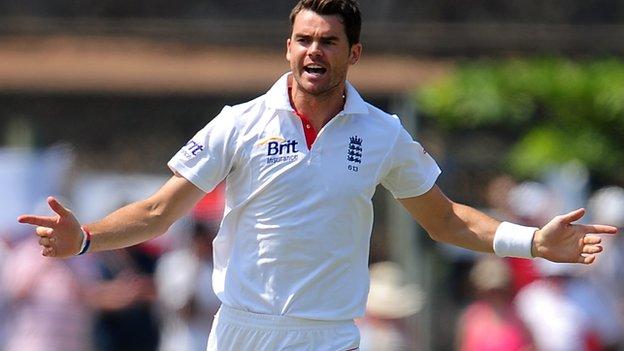 Former captain Michael Vaughan believes James Anderson will surpass Sir Ian Botham's record and become England's leading Test wicket-taker.
"Botham's record of 383 is in the balance," Vaughan told BBC Sport.
"James has to stay fit but he will play for a few more years yet and I do think he will end up as England's leading wicket-taker of all time."
Anderson joins fellow Lancastrian Brian Statham in fifth on England's all-time list but said that he would wait until the end of his career to reflect on any personal achievements.
"I'm delighted to get to 250 but my job is to take wickets and help us win this Test," said pace bowler Anderson. "Once my career has finished I can look back with fond memories, but for now I'm focusing on what's gone on out here."
Despite his haul, Anderson admitted to a degree of frustration as England saw Sri Lanka rally from 15-3, with the tourists halted by Mahela Jayawardene's unbeaten 168 and four dropped catches.
"It's in the balance. If you'd given us that score we'd have taken it but chances went down which is frustrating," Anderson added.
"It was a shame we couldn't finish them off throughout the day."
After Sri Lanka won the toss and asked England to field, Anderson and Stuart Broad combined to quickly leave the home side three down.
"I thought we started brilliantly with the new ball," Anderson continued. "We knew the importance of it and knew that after losing the toss getting early wickets was key and we were very happy to do that.
"But I thought Mahela played a brilliant innings, one of best I've seen so all credit to him. It was a pretty even day."
Jayawardene needed a dose of good fortune to remain unbeaten as he was dropped twice by Anderson before Monty Panesar spilled two relatively easy chances late on.
"There wasn't much turn for the spinners. I thought Monty bowled brilliantly and built pressure, it was just unfortunate he dropped those catches. They can be costly it's something we focused on, half chances and catches must be taken so for four to go down was very disappointing."
And looking ahead to day two, Anderson said: "First and foremost we've got to get two remaining wickets. Then if the batsmen have watched Mahela play, as they have, they can take lots from him, play patiently and score a bit more freely as the bowlers tire."